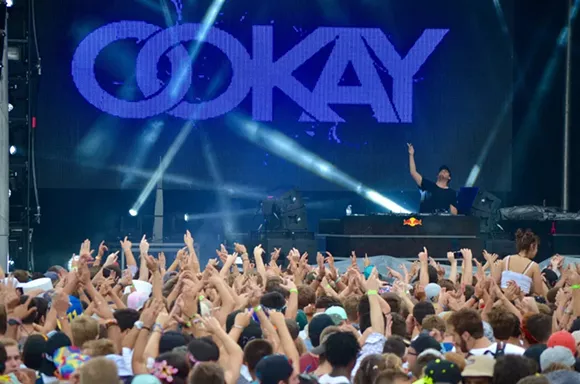 The Mad Decent Block Party made its way into Detroit Saturday night and brought with it a barrage of sound, lights and rain. For their second year in a row, MDBP chose the scenic Russell Industrial Center lot for their venue — with the stage surrounded by its beautiful urban architecture in various states of decay. The trains running by at the back of the festival grounds added a natural noise effect to go along with the sonic beats.
Check out all our wet and wild photos here
After an ecstatic mid-afternoon set by Ookay, an onslaught of rain poured down just as Herobust took to the stage. The rain didn't stop most of the crowd from dancing and thrashing to his lively set of bombastic tracks. As the rain eventually let up, Nightmare took to the stage and played a slightly more subtle but still intense set of melodic dance.
The highlight of the night was Marshmello, who seemed to capture all the buzz for the show as witnessed by the many people wearing white buckets with painted faces. With his onstage getup and energy, Marshmello could have played a Disney soundtrack and the crowd would have still gone nuts. He went straight for the gusto anyway, and played a hard set of kicking EDM tracks. The crowd raised their arms in fist pumps, girls were up on shoulders, and from front to back dancing was a pulsating wave that could not be ignored.
The star of the night, Diplo, came on last. And the rain came down again, signaling the move to the late night parties and more mad but certainly decent revelry.