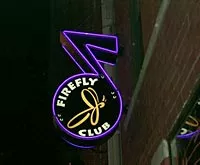 Located in the former digs of fellow jazz hang The Bird of Paradise, Ann Arbor's Firefly Club is a snazzy jazz bar that exudes an understated elegance. It's nostalgic. It's inviting. It's oh so satisfying. The perfectly lit room radiates in soothing lilac and purple. From the exposed brick, the votive candles, the deco-influenced decor, and the rich velvet curtain graciously draped behind the stage, the Firefly Club is a thoroughly warm and pleasant venue.
But it's more than that, really. The Firefly Club delivers a touch of sophistication with a casual, comfortable vibe. Adding a special whimsical touch, a sculpture of intertwined brass instruments graces the entrance.
Above all, The Firefly Club is an exceptional listening room. People go there to listen. Bistro tables face the live music, which tends to be blues and jazz, with occasional folk and acoustic acts. Guitar combos, brass ensembles, vocalists, pianists and guitarists are all found on the Firefly's diverse lineup.
Presenting national as well as local acts, the Firefly features music on Mondays through Thursdays from 8 'til midnight, and Fridays and Saturdays from 9 p.m. until 1 a.m. A happy hour band plays on Fridays from 5 – 7:30. On Sunday The Firefly offers a Sunday jazz brunch, from 10 a.m. - 2 p.m. Cover charges range from $3 - $8. The Firefly Club has a limited menu of snacks, sandwiches and desserts. Also at the Firefly is a full bar with seating, where smoking is permitted.