Having Internet issues here at
MT
. In the meantime here are some links to love and hate for this year's Blowout, as well as a handful of photos I shot with my crappy camera phone.
More later. Full recap in print this Wednesday.
--New Grenada aren't fans of the Blowout. At least their current emoticon mood is "optimistic."
--Ben Blackwell thinks the Hard Lessons might be "GGBB."
Blackreign & Ohkang at Jean's, Friday
--Web Vomit and Motor City Rocks have posted their own (great) recaps, with photos, of the entire weekend.
The Hadituptoheres at Paycheck's, Friday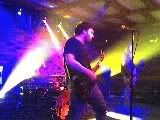 And, finally, the hand dryer at K o C. I thought it was funny that there was a huge sign right next to the hand dryer that read "Hand Dryer," with an arrow. Anyways.
JTL