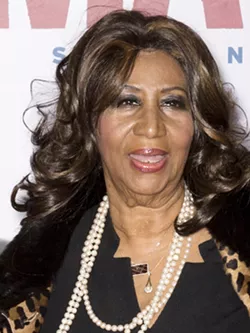 There was no shortage of Detroit artists on
Consequence of Sounds'
"100 Greatest Singers of All Time" list.
The music blog published a list (much like other music blogs do) of the 100 greatest singers of all time. Granted, this is just one editorial staff's opinions on who has the best pipes, but it was awesome to see that Detroit singers were spattered throughout the famed list.
Coming in at No. 95 is
Metro Times
favorite Iggy Pop. His placement doesn't seem too out of place given the star power that follows, (Adele, Beyoncé, Bruce Springsteen, etc.) but Madonna was placed at No. 90 which was pretty jarring. There's no denying that Madge's impression on pop culture is far more significant than Iggy Pop's, (although that could easily be debated, too) but as far as vocal power, we'd like to have seen those rankings reversed.
The rest of the Detroit-born artists were all turned out by Motown Records. Smokey Robinson lands at No. 42, Diana Ross gets No. 21, and Stevie Wonder comes in at No. 16. There were even other Motown artists (not born in Detroit, though) like Gladys Knight and Marvin Gaye made the list, too. Even Patti Smith is on the list, who has close ties to Detroit and once lived here (thanks, Fred "Sonic" Smith!).
Of course, Aretha Franklin had to make the list, and she popped in at No. 4. While we would have undeniably given her the top spot, she was beaten out by Freddie Mercury, Billie Holiday, and Michael Jackson in that order, so yeah, No. 4 isn't too bad for Franklin.