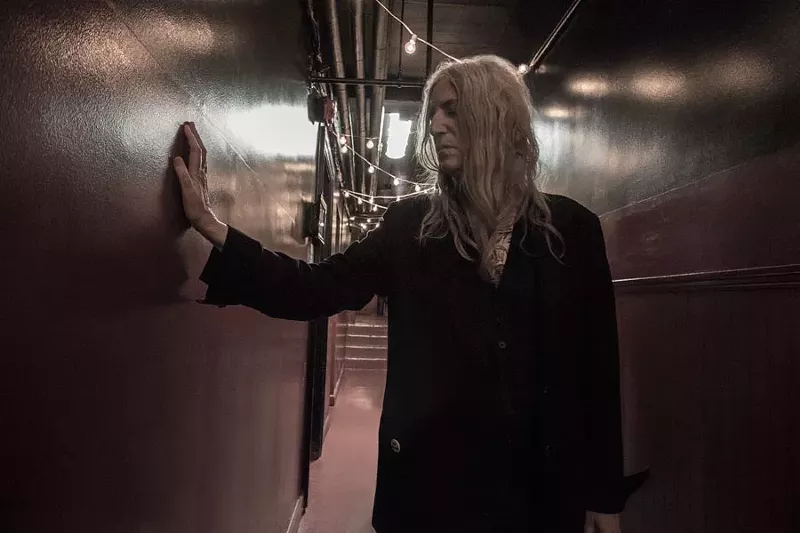 When the package arrived, it was the day before my 29th birthday. I knew what it was before reading the name on the address label. It smelled like stale cigarettes. Included was a card with writing on both sides, trailing onto the back. "Forgive yourself," it read, "and remember she loved you. Happy Birthday."
I pulled a copy of Patti Smith's 1978 book
Babel
from the Manila sleeve using only my fingertips. It was a relic held together with layers of clear tape crosshatched over the binding and looked as if it had been buried and unburied, only to become the surface on which my mother must have painted her nails — silver streaks across the cover image of Smith's face. I flipped the pages within an inch of my face and inhaled the scent of mildew and Newports. For a brief moment, my mother was alive.
When I talk to Smith, she is in transit. She warns me that if the call cuts out it's because she is driving to West Virginia with her son, Jackson, and longtime bandmate and friend, Lenny Kaye. Her late husband, MC5 guitarist Fred "Sonic" Smith, will be inducted into the West Virginia Music Hall of Fame two days later.
"It's snowy," she says. "We've been driving in the snow."
"And the face of love is nothing but the whiteness of winter blanketing limbs of trees fallen through holes colorless skies," Smith says in the first pages of
Devotion
, her latest book, a meditative short story bookended by narration and postscripts, published by Yale University Press as part of its "Why I Write" series. Though brief, it is densely packed with obscure references, and an aching desire to be home.
I like to think Smith is writing several versions of this very line as she caravans through the Midwest with her family, dragging her fingertips against the windshield fog. This is what Smith does to her devoted readers — she provokes memory, isolation, and the desire to make something out of the mundane.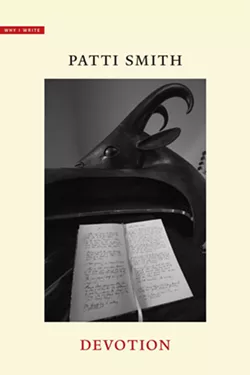 It is here that I feel cheap to suggest that a commercial holiday like Valentine's Day might mean something to Smith, the godmother of punk. As it turns out, she quite likes the idea of something so sweet and considers her opportunity to read from
Devotion
on Valentine's Day in Detroit as serendipitous and poetic.
"There's a lot to speak to. Not just in terms of the book but devotion to family, devotion to a city, devotion to one's loved ones, the departed," she says. "One can be devoted to their cat or dog. It's a form of trust. It's loyalty. It's whatever you make it. I'm thinking of it in terms of various aspects of love. And because Valentine's Day is a romantic holiday, I can also do a song or two for Fred."
Smith met Fred at Detroit's Lafayette Coney Island in 1976. She can recall the exact date (March 9), what he was wearing (a blue overcoat), where he was standing (against the radiator), and that she was certain that she would marry him moments before they were formally introduced (she did). They would live together in St. Clair Shores until Fred's death in 1994.
Like most of Smith's writing, 2015's
M Train
is dizzying and lush. Her relationship with Fred is detailed here and presented with a sliding and dreamlike free association. It is thick with descriptive precision, just as 2010's
Just Kids
— a sweeping true-life documentation of Smith's friendship with artist Robert Mapplethorpe and the magic and peril they experienced together on the streets of New York City. Mapplethorpe died of AIDS on March 9, 1989.
Smith can describe distant, past scents and textures as if they were in the present. She can call to mind room numbers of the Chelsea Hotel, who occupied them and when. She can quote Arthur Rimbaud and paint the way streetlights kissed Mapplethorpe's face that afternoon they went to Coney Island.
Devotion
, though a departure from her previous books, does not deviate from Smith's remarkable gift.
"I can remember my entire childhood," Smith says. "I can go on a major tour for three months and just have certain memories of it. It just depends, I suppose, where you're most present. I don't have a memory like that for everything. I'm still the kind of person that rushes up the stairs to get something and forgets what they came upstairs for. The memories that are for myself are for myself. They just are."
Smith suggests that any calling — even writing — requires a treatment similar to a human relationship. "Stay connected with it, whatever it is," she explains. "Human relationships, even at their best, are difficult. You have to work through them. You have to work hard. Communication is key. You have to talk things out. It's always good to have your own way to work things out and writing is a good vehicle for those things."
As Smith says this, I peel open the front cover of my beloved and tattered talisman, a vestige of misunderstood love. On the inside front cover, my mother had written her name alongside the name of her first husband, Eric, in marker — and then in blue ink, Eric's name had been crossed off and replaced with the words: "This book is all mine, like my life, like my mind." Something must have resonated within the pages of Smith's prose for her to return to the book and stake claim with ink.
I think of all the names I have crossed out. Smith assures me that loss should not keep love at bay. Rather it should serve as an invitation.
"I lost my brother, but I have a dear sister," Smith says. "I lost my husband, but I have two children that I love. I love my friends. I love my work. Love is an essential human ingredient."
"I don't fear love," Smith says. "I'm happy to have it within me."
Patti Smith will perform followed by a Q&A on Wednesday, Feb. 14 at 7 p.m. at the Detroit Film Theatre; 5200 Woodward Ave., Detroit; 313-833-7900, dia.org; Tickets are $20 and include a copy of
Devotion
.