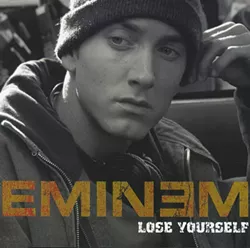 The lawsuit between
Eminem's music publishers and The National Party
continued in New Zealand on Tuesday, with the guy behind the iconic "Lose Yourself" guitar riff offering testimony that offered a peek into the origins of the hit song.
Metro Detroit-based Jeff Bass told New Zealand's High Court in Wellington on Tuesday that the song used in the 2014 National Party spot — titled "Eminem Esque" — was a "blatant rip-off" of Eminem's 2002 track. He called it "Lose Yourself Lite."
According to the Associated Press
, Bass picked up an acoustic guitar and strummed the iconic riff for the court. He told the court that one day he just started playing the riff for Eminem and collaborator Luis Resto. "At that time, I didn't know if it was a song or not," he said.
The three worked on the song for 18 months. "It took (Eminem) a number of months to author the perfect lyrics that were just right for the beat," Bass said. He said Resto replaced some of the guitar elements with keyboards to make it sound more hip-hop and less rock.
"The intention was to create a tense, hypnotic feeling," he said. "It starts playing, and never goes away. Along with that drum beat, it actually will hypnotize you, where you are feeling that something's going to happen."
According to the
AP
, defense lawyers charge that it isn't a very original composition, and compared it to Led Zeppelin's "Kashmir."
The copyright infringement case is expected to last about six days.
Watch the National Party spot below: