The guesses have petered, and the jokes, however funny, have ended. (Care might win with
Foreigner
. C'mon, Foreigner?) And that means it's finally time to reveal my other shameless fanboy crush
besides Sebadoh
.
Are you ready?
It's Sahara Hotnights, the Swedish quartet who, like most Swedish groups, have the sick ability to link shit derived from punk, hard rock, and new wave to pop melodies delivered with an unreadable sneer. I can never figure out whether they're having fun or hating, writing love songs or put downs, anthems to self-reliance or just party music for drunk Hassleholm weekends.
The Sounds do this too; so do approximately 823 other groups worldwide. But I prefer the Hotnights version. I also prefer their bass player. What can I say? Everyone needs a rock 'n' roll crush.
And, if you want me to connect all this, I think my longstanding googly eyes for Johanna Asplund are a continuation of those I made at Laura Ballance in the early 1990s, back when I'd see Superchunk as much as I did — wait for it — Sebadoh.
The Hotnights' new jam "Cheek to Cheek" is pretty slick. It's also an instant hit in Sweden, if that makes you jump. Dig the saxophone break.
JTL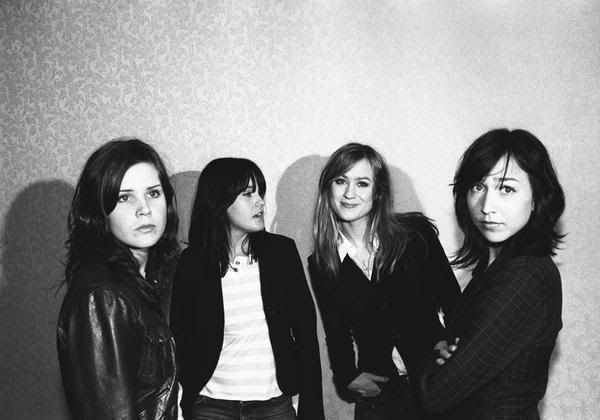 That's not Jenna Lewis on the left. It's my girl Johanna. (Photo courtesy of the Hotnights' MySpace.)