In a move straight out of the modern band breakup playbook,
800beloved
, one of our
favorite local indie bands
, has announced their retirement with a final show, a press release, and a fancy and artsy image. They're even referring to their final show, on
August 13 at Marble Bar
, as a "funeral." It's sure to be some sort of spectacle, so don't miss it.
Their full press release, which is actually worth reading as it manages to be both self-aware and a bit funny at the same time, is below.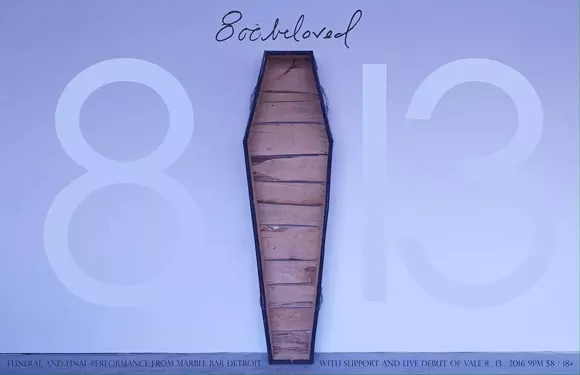 OBITUARY

800beloved, est. 2005 in Detroit, formerly of Milford, Michigan, will go silent following their final set on August 13, 2016 at Marble Bar, Detroit.

A moniker taken from a 1-800 telephone number, 800beloved began from the writing and recording of singer/multi-instrumentalist and former undertaker, Sean Lynch, and reincarnated through contributions of several members over its decade of output; notably from artist/bassist Anastasiya Metesheva, who remained with the group since 2007.

The band was once described as, "elusive".

In addition to former members, Scott Masson, Jon Elkas, Eric Wilson, Nicole Kosiba, Allen Goodman, Courtney Marie and Selena Sunday, 800beloved is survived by remaining members, Ben Collins (2013—2016), Anastasiya Metesheva (2007—2016), and Lynch (2005—2016).

Artist, Santa Anna Dreīmane, whom the band collaborated with for visual & conceptual design, also survives.

They leave three complete albums: 'Bouquet' (©2008), 'Everything Purple' (©2010), 'Some Kind of Distortion' (©2015); various singles, compilation tracks and EPs.

Funeral from Marble Bar, 1501 Holden St., Detroit, Saturday, 13th of August 2016, 800beloved performing 'Some Kind of Distortion' beginning to end, with opening support and live debut from Vale. Ages 18+ / $8.00 admission fee.

Download "Some Kind of Distortion" freely:
800beloved.bandcamp.com/album/some-kind-of-distortion-2

VALE : valesound.bandcamp.com
800BELOVED : 800beloved.bandcamp.com