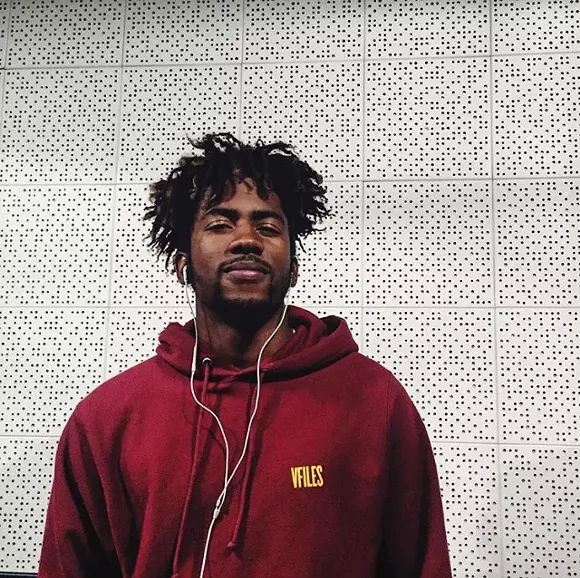 Jermisdope
is a 19 year-old rapper and vocalist from Ferndale who's closely associated with our friends in the Captwolf collective. He also paints and owns a multimedia company called Sex Wave Media.
Metro Times
: How long have you been rapping and singing? What got you started?
Jermisdope:
I've been making music since I was 13, in 2010.
MT
: Who are your biggest musical influences, local or not local?
Jermisdope
: My influence include Lil Wayne, Andre 3000, Tame Impala, Sampha, and a lot more.
MT
: We have listened to "July 9," "Ghosting" and "Midnight Drive." You rap about various topics but you still seem to focus on your lyrics.
Jermisdope
: I make songs like those to break the boundaries that people try to build around music. Music is all about expression and creative freedom to me. I like to think of songs like these as abstract music.
MT
: How would you describe your sound? Boom-bap? Trap?
Jermisdope
: I've never given my music a specific genre or identity because it has so many different kinds of influences. There's a little bit of hip-hop, electronic, alternative... it's all over the place. I guess we could use the "abstract" label to describe my music as a whole.
MT
: We've also listen to tracks "Lil Honey" and "Vanity." You also have kind of a throwback '90s hip-hop vibe. Is this intentional?
Jermisdope
: I listen to '90s hip-hop and R&B like it just came out. It's become a part of me but I never really start my creative process by trying to recreate that sound. It's an honor to be compared, though!
MT
: Is there an album in the works? If so when?
Jermisdope
: There is currently an untitled project in the works. Right now I'm anticipating it to be released in the late Fall.
MT
: What types of topics and production can we expect from your album?
Jermisdope
: You can expect me to grow and perfect the sound I've already established for myself. I always hear back really good things about the music I make and I only plan to get better and better. There will be some really surprising guests on this project. It will be the best version of Jermisdope.
MT
: How do you feel about the current state of Detroit hip-hop? Where do you see it in the future?
Jermisdope
: Detroit hip-hop is at an all-time high! There's so much going on the city right now. Royce da 5'9 just released a #1 album; Danny Brown is about to drop another album; Rocaine is buzzing through the city; and there's this Daniel Hex guy who's making some noise around here. I'm excited to see how far Detroit takes this thing! Music hasn't been this prevalent around here since the Motown days!
MT
: When is your next performance?
Jermisdope
: My next performance is the #NMPIAA festival in Ypsilanti on August 20th!