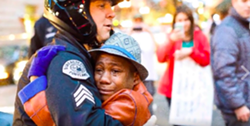 The tension in this country over the killing of black bodies at the hands of police is palpable. Many of us feel the weight these atrocious events, but don't know what to do about it. Well, local country artist Paulina Jayne decided to weigh in on the topic the best way she knows how — through music.
The 20-year-old singer/songwriter released a track called "Loves Gonna Always Win," and we'd be lying if we said it didn't make us tear up just a little bit — OK, fine, we're crying the ugly cry.
The music video, shown below, starts by showing some of the violent encounters between police and civilians, but quickly morphs into a collage of clips showing displays of affection between couples, cops holding signs for "free hugs," people on the street singing along, and a little girl signing along to the words.
Thanks, Paulina, for this reminder that #LoveWins.