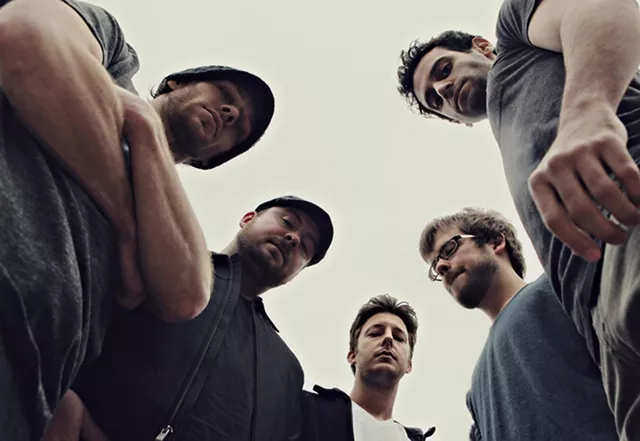 The men of Bear Lake are laid-back, easy-to-talk-to dudes who happen to be extremely musically driven, which makes for an interesting little dichotomy. The quartet is an indie rock band, to be sure, but describing them isn't easy, mostly because they've pushed themselves forward with each of their three albums. Mellow, but able to kick hard when needed, the band of multi-instrumentalists employs electronic gadgetry and acoustic instruments in equal measure. The music's about writing what they feel, they say. It's also about living in reality. You can hear it in their new and beautifully disparate record, If You Were Me, which is out Oct. 25.
We "never thought about what we're going to sound like," drummer Steve Stetson says. "Creating on the spot and being into the moment ... We often just start with beats."
I meet with four of the five Lakes (keyboardist and percussionist Erik Pederson resides in Chicago) at Royal Oak's Rust Belt Studios, where the band recorded its three, self-released albums with Eric Hoegemeyer and Al Sutton. (A few weeks ago, I interviewed Hoegemeyer in his guise as drummer with a reunited Charm Farm. Hoegemeyer loves this band, has helped guide them from day one.)
Bear Lake is completed by Jon Rice (vocals, guitar), Keith May (bass) and Brian Kwasnik (keys). They morphed from a group of pals sitting around and writing songs at, yes, Bear Lake. "It all started at a cabin that Keith's family owns," Stetson says. "We wrote the [debut] Catch the Sun album there on the lake, and we kind of ran with that name and have been pushing it ever since."
But there have been some casualties since the band coalesced four years ago as sextet; among those who came and went include the recently wed singer and guitarist Matt Hines.
The funny thing about the debut album is it got recorded only because Stetson scored some free, or at least on-the-cheap, studio time at Rust Belt because he was an intern here.
The band guys, all in their mid-20s, basically make music their full-time gig, though Pederson runs a landscaping business over in Chi-town. The geography problem isn't easy, but they make it work.
Just hanging with them it's easy to detect a real chemistry, it's brotherhood-y and obvious they've been friends since childhood. They sound like a group of friends who happen to play music, not the other way around. There's a difference. And just watching them on stage it's easy to detect that exact chemistry. Why else would their following be swelling along the East Coast, where the band often tours? Besides, Bear Lake's hometown draw has always been at least respectable, even on off nights.
Like a proper band, they get behind their din: "I've been noticing performances lately," Rice says. "If a person's heart is behind it, that's enough to keep attention more than the production. If you can feel that the person is giving everything they've got, that's the most important thing. That's what we're really focused on right now."
All members write songs — and not just on their own particular instrument. "The more you hang around us, the more you can hear our distinct personalities coming out in the music," Stetson says. "We practice at a barn on Brian's property out in Rochester. We sit down with a guitar and one day it'll sound different the next. There's no main lyricist, and we all write parts for different instruments.
"We rarely use a song that's been written by one person," May adds. "The songs start to blossom when we all put ideas on top of it."
Their influences are as disparate as pop gets. May's into moody prog, referencing the Arcade Fire and Pink Floyd. Rice says he's about Stevie Wonder, Hendrix, plus the Strokes and the Velvet Underground, but says, "I'll listen to nothing but Zeppelin, Pink Floyd and Queen for a month, and then I won't listen to it again for two years." Stetson teaches at Rochester's School of Rock, and he's been learning a lot of Maiden and Priest recently — you know, for the kids. He's also into the grooves of Prince and Michael Jackson. Kwasnik talks up Ra Ra Riot and A Tribe Called Quest. A mixed bag, then.
Bear Lake's music is clean as hell, well-produced and, in fact, marketable, traits not always associated with Detroit-area purists and indie bands. Does the band feel like outsiders? No, they say.
"We're all from here, and we record here in Royal Oak," Stetson says. "We're definitely a Detroit band."
But, Stetson adds, the city is as diverse as it is spread out. "Everyone's hoping for the venues to play where people will come out. In Chicago, it's easy to jump in a cab and you're there. Here, even if you're going to a show in Detroit and you live in Royal Oak, you're driving. That's not to say you have to drink ... you have that to worry about."
And the diversity?
"We shared a bill with Lettercamp and there was enough similarity," Rice says. "People that went to that show saw us, Lettercamp, Bar of Gold, Jessica Hernandez, and Dale Earnhardt Jr. Jr. That's a big list and everyone's unique, but I think everyone does fit into a 'Detroit scene'."
"I think the outside view of Detroit is still that dirty garage rock," May concludes. "Inside, it's not that but when you go out of town people still expect that dirty sound."
Not dirty? OK, pop quiz time for Mr. May? Michele Bachmann, Sarah Palin and Hillary Clinton. Who would you marry, kill and fuck.
"Oh, shit," May says. "I'd have to say fuck Palin, kill Bachmann, marry Clinton. I'm not crazy about any of them though."
The truth is, the Bear Lake boys are as "Detroit" as anyone else out there. Get Kwasnik talking about his beloved Tigers and Lions, and he's a pig in filth. "The Tigers' playoff chances are good," he goes on. "It depends who they play. Verlander and Fister can match up against any two. It's gonna be tough. If we had to play Boston in the first series, I don't know. A lot better than I would have told you three weeks ago. I hope they're not peaking too early. As for the Lions, it's weird watching these talented players and believing it's the Lions. I've seen them find every possible way to blow a game over the years. 10-6 is my prediction."
To bring the conversation back around, I ask the dudes where they see themselves in a decade. They say they'll be together, creating music.
"I love that we're growing," Stetson says, oblivious to the green glow of optimism. "It's only been a handful of years that we've been focusing. We're happy with where we're going. As soon as we're not, that'll be it for me but I don't see that happening. I think in ten years we'll be putting out some great shit."
If You Were Me drops Oct. 25.