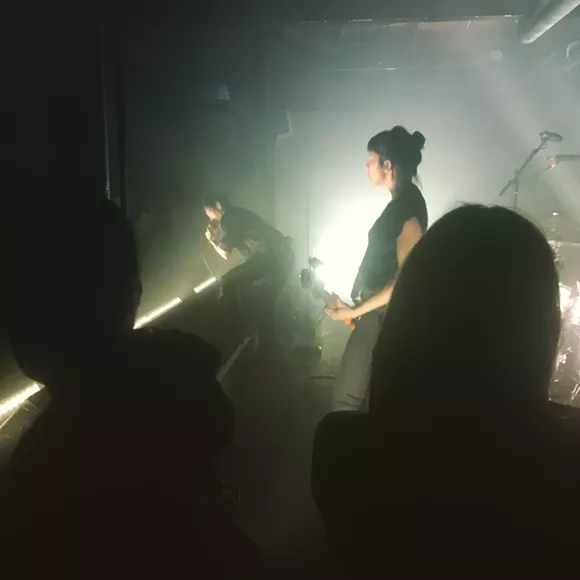 About nine songs into UK-based band Savages' set at The Shelter on April 5, lead singer Jehnny Beth went into this trance where she started reciting the intro to the song called "Evil." While she was sing-songing poetry about the world rejecting her, the entire mood in the packed room shifted. People were moving their feet earlier, but now they were in a spell, and Beth had everyone listening.
For a show originally scheduled at St. Andrews Hall, (up the stairs from the Shelter), the Shelter was the perfect atmosphere for Jehnny Beth and her band. Low ceilings and now a whole lot more space to move, people were shoulder to shoulder mesmerized by Beth's searing ethereal howls into the stuffy basement. The crowd really went wild when Beth got practically in it, telling everyone to come closer and closer to the stage.
The post-punk band from England broke out in 2013 with the ferocious "Silence Yourself." After touring the world and playing festivals, the ladies of Savage went back to the studio and earlier this year they released a full-length album called "Adorn", an album full of heart wrenching love songs. The album is full of romanticized lyrics, distorted guitar, and pulsing and heavy bass.
The band is touring the rest of the country for the next months leading up, as well as a stop at Coachella and Shaky Knees Festival in Atlanta. They may not be the typical band that would expect to play a festival like Coachella, but Jehnny Beth and her band seem to be an exception to the rules.