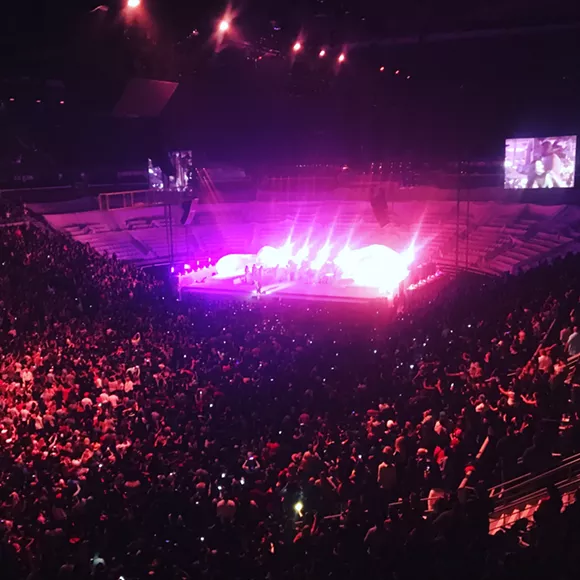 It's been more than 10 years since Rihanna's first album came out, and the pop singer has taken control of the reins and turned into one of the most prolific and talked about artists in recent memory.
With extravagant costume changes, a suspended catwalk over the crowd, and enough twerking to last us until 2017, Rihanna owned the stage for a quick and cool 85-minute show at The Palace.
Starting the show in the audience with slow burners "Stay" and "Love The Way You Lie Part II" (sadly without Eminem) was an interesting choice for the singer, and it paid off. Most pop singers start with a huge banger to get everyone pumped, but Rihanna's presence alone did that.
She was then suspended on a catwalk that floated above the audience, and that's when the show really took off. She did an excellent job of mixing her old radio hits like "Umbrella" and "We Found Love" with tracks from her bumpin' new album,
Anti.
Songs like "Sex With Me," the radio hit "Work" and "Desperado" fit effortlessly into the Rihanna canon.
She also reminded the crowd just how many songs she has lent her powerful vocals to. Performing snippets from Jay-Z's "Run This Town," Kanye's "All of the Lights," T.I.'s "Live Your Life," and Drake's "Take Care" really showcased just how influential and in-demand she is as an artist. Everyone wants to work with Rihanna.
The crowd at The Palace was in rare form for RiRi. She told the screaming fans halfway through her set: "Y'all are honestly making me feel like I'm from here."
Rihanna does seem like she's from here, though. Her hard-working aesthetic meshes perfectly with Detroit's DIY nature. Plus, collaborating with hometown hero Eminem multiple times doesn't hurt either (still bitter he didn't show, though.)
Closing the night with a quartet of hits — "Diamonds," the singalong "FourFiveSeconds," and
Anti
album highlights "Love on the Brain" and "Kiss it Better" — Rihanna was alone on the stage with her band, backup singers, and herself. "I can't stop smiling, y'all," she squealed to packed arena. Neither could we.