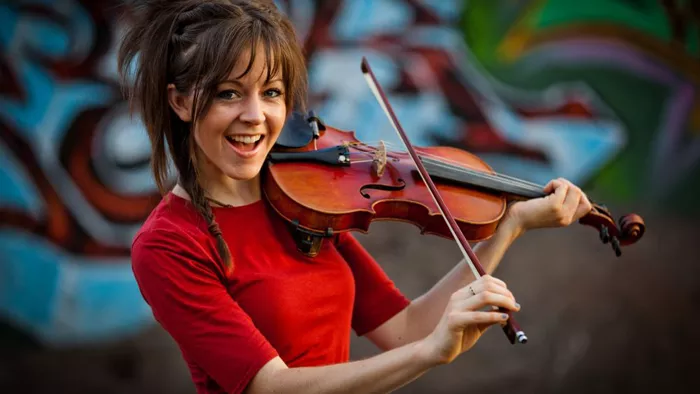 Lindsey Stirling is a musician who Riverdances to techno while playing the violin. She can often be seen dressed like a video game character or a fairy. We had to find out more about this classically trained imp.
Metro Times: You have a very unique style. How did you come into your elvish, fairyland style?
Lindsey Stirling: To be quite honest, it's just all my interests combined into one thing. I don't know how I got so lucky as to find YouTube. I love the violin, but I also wanted to experiment with electronic dance music because I love dance music, and I love to dance. I thought, "I want to try to combine these two forms of art together." I've also always created my own costumes, and I love fashion. I love that sort of anime/fantasy world. It's been really fun to delve into that.
MT: Did you get your start on YouTube?
Stirling: Yeah, I got my start on YouTube. I tried to go the traditional route, and I sent my music to record labels and talent agencies and just never heard anything back except, "You're too different and you're not marketable. Sorry." Finally I discovered YouTube, and I learned that there's a whole community of people who have their own channels on the Internet.
MT: So, who is your fan base? Do people come to your shows dressed up in anime or cosplay costumes?
Stirling: We used to see it a lot more because when I first started I did several gaming covers and those were my first viral hits — a "Legend of Zelda" cover and a "Skyrim" medley. Our first tour, tons of people came dressed in costumes, and it was really fun because it was this gamer culture and a lot of them had never been to a concert. Now I love it because the concerts are the most diverse crowd you've ever seen. You've got your teenage gamers, your guys in trench coats, little girls dressed in fairy costumes on their dad's shoulders, old couples off to the side, and ravers in the back.
MT: How hard is it to dance and play the violin?
Stirling: At first, it seemed impossible, but I really wanted to dance and play the violin. I'm not a trained dancer. I'm self-taught. However, years of practice have trained my brain to think in two different sections. There's the top half, where I have to keep a very strict form and can't break from that. Then there's my lower body ... that can just jump and glide and do back spins. It's just been really fun and made me believe that really there's no limit.
MT: Last question — Lindsey, do you believe in magic?
Stirling: [long pause] Do I believe in magic? I would have to say no. I'm very religious and spiritual. I believe that God has a path for all of us. But for God to allow a violinist like me to get found [by] all the people on YouTube, maybe that is a sort of magic anyway.
Lindsey Stirling plays at 7 p.m. on Saturday, June 7, at the Masonic Temple, 500 Temple St., Detroit; 313-832-7100; $30.50.