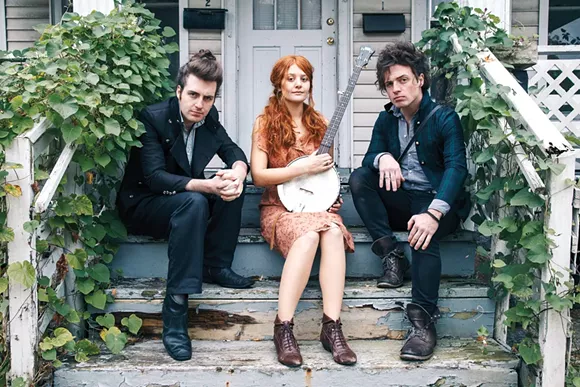 Libby DeCamp's calling as a folk singer has been a long time coming. Though she's only 22, the Romeo native has spent much of her life with her head in books, soaking up American history and literature, internalizing and analyzing its charms and contradictions. Those long adolescent days were also when she began playing a couple family heirlooms — a banjo and violin. In the confines of her Romeo home, a folk singer began to take shape.
Her band, which also includes drummer Adam Schreiber and bassist Brandon James, released its first EP, Cross Sections, in 2016. The album is a sort-of love letter to roots music and the American tradition, drawing images of river banks, apple pie, bones, and blood. It explores themes of morality, resilience, and the long, winding thread of history.
The EP tells a story on the sonic level as well. On "Seattle," the rhythm guitar sounds like a train on the tracks. Her banjo is often creepy and foreboding, like on "Old Witch," where it sounds like a bedtime story intended to scare children into being good. And then there's DeCamp's voice, haunting yet lovely, conveying a confidence that might lead you to believe she's been doing this much longer than she has.
The band has been working on a new album, slated for release in spring 2018. They are also planning a fall tour with stops in Texas, Louisiana, Alabama, and Tennessee. But before that, DeCamp will take the stage at Pig & Whiskey on Saturday, July 15, with Olivia Mainville and Richie Wohlfeil filling in on bass and drums for James and Schreiber.
We spoke to DeCamp about her love and fascination with Americana and her transition into a full-fledged folk singer.
Metro Times: Do you like performing in front of people? Do you feel like you are a performer or is it more about the writing?
Libby DeCamp: I feel like I'm a writer first. Performing is something I've grown to like. It wasn't the most natural thing at first, because it all formed out of just being a music listener for so long, and an admirer of folk music and creative writing. The performer part was acquired.
MT: In your biography on your Facebook page it says you spent your adolescence in "close companionship with bodies of music and literature." What were some big ones for you?
DeCamp: John Steinbeck books are a big influence. He just has a way of conveying the most important human truths in such a dusty way. He really packs a punch.
MT: What kind of music were you listening to as a teenager?
DeCamp: I started really getting into a tunnel of research with old folk and blues music from newer music that I was listening to. Going back to what came before that.
MT: What was the newer music that you were listening to?
DeCamp: I was a huge Old Crow Medicine Show fan. A lot of the songs that were on their albums were Dock Boggs songs and traditionals, and I started to wonder, "Where did these sounds come from?" There's a way to everything.
MT: What is it that you like about traditional American folk music? What made you want to be that kind of artist?
DeCamp: Well, folk music from anywhere, the purpose of it is really interesting to me. It rises up out of human need to make sense of something, or to get through something, or to communicate something. It's very universal. It's really inspirational to see the lowest bits of society have something that's so real.
MT: I really love that one of the songs on your EP was called "Old Witch." It's also probably the catchiest song on the album. So what was the story behind that song title?
DeCamp: I was at an antique store in Cleveland and I just grabbed a handful of photos from this bucket and bought them, because I like to do stuff like that. And there was a picture of a woman sitting on a little stone wall with a witch hat on. So that imagery was in my head, but the song itself is my take on the folk songs that have to do with childhood morality. The "Will you meet her in the evening" refrain is kind of like the choice, "Do I do bad or do I do good?"
MT: How has your sound changed on your upcoming album, when compared to Cross Sections?
DeCamp: I guess in a word it would be a little less loose sounding than the EP. A little bit tightened up. The content all kind of has a little bit of a theme; there's a lot of inspiration from the American West on this one and its relation to the American approach in general; the vast beauty set against the greed and exploitation that's on the underside of it.
MT: Were you really into American history growing up?
DeCamp: Yes! Especially my last couple of years as a teenager.
MT: What are the eras that you found especially fascinating?
DeCamp: Manifest Destiny to Civil War era.
MT: Oh, that's a murky era.
DeCamp: Yeah. Well, they're two giant eras squished together, but both of those. And post-Civil War, I've written about a couple times on the album. And then Depression Era. I think that brought out something real in all of us, so it's a fascinating thing to think about.
MT: Do you feel in the future you might write protest songs?
DeCamp: Yeah. A lot of the new material has to do with very pointed topics, like GMOs and factory farming and things like that. So a lot of my songs are a form of protest.
Libby DeCamp performs at the Pig & Whiskey on Saturday, July 15; East Troy Street between the WAB and Emory, Ferndale.