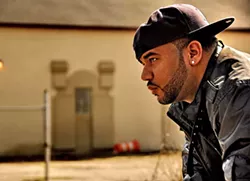 Within a city like Detroit, there's never a shortage of highly skilled hip-hop producers who can crap on most of their competition. The always-fierce Red Bull Big Tune producer showcase held at St. Andrew's Hall two weeks ago helped illuminate that. The organizers of that national competition admitted to being more impressed with Detroit's beatmakers than those from any other city. So it shouldn't surprise anyone that last year's Big Tune winner, Apollo Brown, is on rapid-fire ascent, turning into a go-to producer for various members of hip hop's underground. He's caught the attention of such national artists as Oddisee and Kool G. Rap while earning the respect of the local elite, such as Black Milk, Marv Won and others. After getting signed to a production deal with Mello Music Group earlier this year, he released the heralded Brown Study LP with fellow Detroiter Boog Brown last month. As of last week, he released yet another buzz-worthy album, The Gas Mask LP, with his new group, the Left, which is made up of Journalist 103 and DJ Soko. The man is on his grind, and since he just got back from showcasing at New York's CMJ, it's a pretty sweet time to check in.

Metro Times: Hey, so you grew up in Grand Rapids. Did that skew your musical influences growing up?
Apollo Brown: I was brought up on all different kinds of music. Mom had stuff around the house like the Carpenters, Journey, '80s and '70s soft rock basically. Grand Rapids has no hip-hop station. Not even an R&B station. My influences were a little bit different than most hip-hop producers out now.
MT: Musically, what were your favorites growing up?
Brown: My favorite song growing up was either New Shoes, "I Can't Wait" or Yes "Owner of a Lonely Heart." Man, those two joints really did it when I was a kid. When you starting talking like, Pet Shop Boys' "West End Girls," the Clash's, "Rock the Casbah," aw, man! ... I can go on for days with that stuff!
MT: How old were you when that music really started to resonate with you?
Brown: I was probably 8 or 9. I used to go on trips with my family and just rock out in the car. When Suzanne Vega's "Tom's Diner" would come on — what! That was my shit. Or Tears for Fears' "Shout," The Eurythmics' "Sweet Dreams," you can't deny that music. And that's what I was brought up on.
MT: Why did you all choose the Left as a band name?
Brown: We called the group the Left because there's no conformity. We make the music we want to make. We're not going to make music to get on BET or any of that. We want to make something people can feel and relate to. The three of us all come from the era where gritty, grimy snares slap you in the face. I wanted to make an album that was real gritty, which is what you hear on Gas Mask. Journalist 103 does all the rapping, I produce the beats, and DJ Soko does the scratches. Simple, good hip hop and it works.