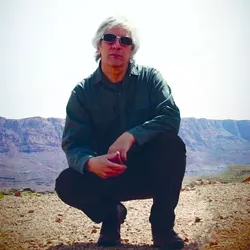 Lee Ranaldo recently returned from the most remote place he says he's ever been: the tribal lands of "more India" (extending east of Bangladesh and south of Bhutan), and likens it to, "What do you guys call it? The Upper Peninsula?"
Ranaldo & the Dust (guitarist Alan Licht, bassist Tim Luntzel and drummer Steve Shelley) performed shows with some Indian rock bands in Delhi and Mumbai before they came here for their U.S. tour in support of Last Night on Earth, the second "record full of songs" that the Sonic Youth guitarist-singer has written, recorded and produced in the last two years during that iconic indie-rock band's hiatus.
Ranaldo's résumé is stacked: composer, visual artist and founding member of Sonic Youth, Ranaldo has blazed a trail for experimental rock since the early 1980s. Sonic Youth is specifically taking a break after the split of its wedded dual lead singers — guitarist Thurston Moore and bassist Kim Gordon — leaving them, as well as Ranaldo, free to explore "solo projects."
Ranaldo's breakthrough was last year's Between the Times and the Tides, a balance of acoustic and electric four-minute experimentations, which found the notoriously noise-inclined guitarist closer to singer-songwriter mode than he'd ever been. Ranaldo spoke with the Metro Times about Last Night in advance of his upcoming Detroit show.
Metro Times: Listening to this album, you feel like you're in the room with the band as they're recording it.
Lee Ranaldo: There's no doubt we were going for something like that on this record. We spent a long time in the studio getting deeper inside these songs, letting them open up in different ways. It goes back to the earliest rock records, with one room and a single mic. If you're making this kind of music, you want to have the recording reflect what it felt like in the room and not to sound like it was constructed in an editing suite.
MT: Did that more organic approach lead to any surprises?
Ranaldo: I was interested in developing longer songs, so that, live, they could just go on if they wanted to go on. I had a lot of lyrical ideas for songs that didn't flesh out until very near the end — and then fleshed them out quickly. So, I'm actually still finding out aspects of what they're really about.
MT: We detect a common thread or theme — "time" —"Times, Tides, waiting for the light of day …"
Ranaldo: Sure, you can probably find that word in my lyrics going back to the very first ones I made. Musicians are hyper-aware of time because [the] art is durational. But time, it's always preoccupied me, between the current moment and eternity. Last Night on Earth took on a particular time, the end of time, so … it's always there.
MT: How did making Times influence Last Night's conception?
Ranaldo: [Times] did so much in terms of just getting the idea of me writing a record full of songs off the ground. Touring with a band in the interim paved the way too, to making this much more of a "band-record."
MT: It's been refreshing to hear that Sonic Youth is on considerably amicable terms during this hiatus. Is that out of friendship or out of professionalism or…?
Ranaldo: It's out of all kinds of things. You spend 30 years working together, you know, you can't help but have a vested interest of some sort.
MT: As busy as you all continue to be these last months, have you heard any fans worry that this confirms a Sonic reboot being further off than they'd like …?
Ranaldo: I know what you mean, but, not really. Most people realize that everybody's really engaged in what they're doing right now and we're not really thinking about [Sonic Youth] much at all. This is just the initial surge from everyone.
Lee Ranaldo & the Dust (with Brokeback) will appear Oct. 12, at Trinosophes (TREEN-oh-soafs), 1464 Gratiot Ave., Detroit; trinosophes.com; $12.
Jeff Milo writes about music for Metro Times. Send comments to [email protected]