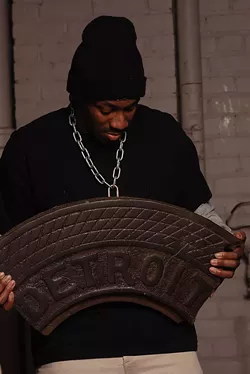 Detroit rapper Leaf Erikson recently teamed up with producer Dakim for the release of
Monumentum,
a 16-track collaboration of short, sweet introspective tracks. On the A side, eight tracks feature the vocals of Erikson, while the B side is called
Unannounced
and features Mario Dell aka AC Pull.
Metro Times
caught up with Erikson to discuss the lyrics, beats, and motivation behind a few of the album's tracks.
Blue Butter
Metro Times:
Like most of the production on this project, "Blue Butter" has this melodic boom-bap jazzy vibe to it. Is that by design? What made you guys go in this direction as far as the sound?
Erikson:
I fell in love with that track as soon as I heard it! But nah, at Butter Made we never EVER say we're going to do a boom-bap, jazzy, country, etc. album. We just do what feels good to us.
Masonic Temple
MT:
"In the chamber of reflection they follow rituals/images and symbols seems to be unholy. The public idolize figureheads, infatuated with power ... " This cut feels like it's about people worshiping false figureheads.
Erikson:
Wow, you have the version with the lyrics. The version we've been sending out has the lyrics real faint, almost like a background vocal. So there are some versions of the album that are different than others. Dakim (Dak) always does shit like that and doesn't tell us.
Legendofthedrunklegend
MT:
"Jim Bean daydream elevates the bloodstream." This is a cool cut. Are you being real or sarcastic regarding your relationship with alcohol?
Erikson:
I was just having fun with this one. Dakim wasn't super fond of this beat and didn't really want to use it, so I just made sure that I kept a decent tempo and delivery on that joint.
Nascar pt 2 and pt 3
MT:
Why the Nascar overall analogy?
Erikson:
It works! I feel on these cuts you go extra hard on the word play and wit. Since I had the line "I'm Jimmy Johnson in a fast car, NASCAR" I thought it just fit. Plus I was out of breath after I finished my verse. There's actually a pt. 1, which is my favorite version but Dakim remixed it and didn't tell me.
Losing@Life
MT:
Feels retrospective. You kind of talk around some of your past mistakes and experiences. Was there a specific experience that made you want to create this?
Erikson:
Gotta credit my man Hugh Whitaker for that title. We were all kinda going through some depressing times back then. That joint is definitely the truest shit I ever wrote. Was facing jail time, couldn't find a full time job, trying to raise my son... I had a lot on my plate.
Jenny Davis
MT:
This is obvious a dedication right? Can you tell us more about her?
Erikson:
Jenny was a girl who went to the same church as I did. She always had jokes and kept people laughing. It was tough listening to this song during playback — I cried a little bit.
Dduty
MT:
Short and sweet, 60 seconds. A lot of these cuts are quick one or two minute hitters. Why they short cuts instead of longer ones?
Erikson:
We have a lot of short cuts not necessarily by design. But as crew, we never believed that tracks have to have a certain formula. The whole 16 bars, hook, 16 bars, hook is so formulaic. Just go where the music takes you. Say what you say and be out.
MT:
Any other cuts you want to speak on? Other songs on the project?
Erikson:
"Out of Orbit," I
swear
the first time I heard that, I thought Baatin snuck in the booth. I don't know if AC did that on purpose but 'Tin had a lot of influence on us style-wise and approach-wise. "Games Have Rules," that was a track that I had on a burned CD for years but like many other cuts by AC, I didn't know the name of it. Me and Blake Eerie used to ride around with that joint blastin'! "Clutch hitter," I absolutely love that cut. Very introspective. He touched on a lot of key points. That joint is like my breakfast motivational cut.
MT:
What label is this project out on?
Erikson:
We were going to just release it on our own as a Butter Made Records project... but it was released as joint project by Fifty Records (Australia) via Butter Made.