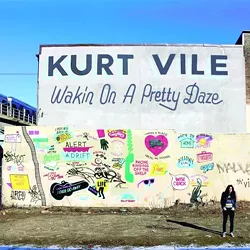 We don't typically assign "epic" to a solo singer-songwriter-type, ostensibly crafting breezy ballads — but Vile, a Philly-based experimental troubadour known for his work with underground Americana outfit the War on Drugs, seems as if he wants to explore as much as possible inside the confines of one song. He toys with a slew of different phrasings, atmospheric elements and tonal and stylistic possibilities, defiant of any bias toward palatable four-minute-long songs.
His nasal croon recalls glam-rock types like T-Rex's Marc Bolan, while his guitar riffs evoke the playful psych-rock of Thin Lizzy. But Daze is not derivative, a throwback or even nostalgic. If anything, beardy Kristofferson-types might even consider it "irreverent," (egad, another clichéd qualification).
Still, Vile's subdued badass charm stems from how he flips preconceptions of heartland-hazy folk rock while splicing in elements of electronica (sequencers and synths) and psychedelia (stomped pedal boards discharging dazzling effects).
One track's got a strutting rhythm 'n' blues beat, easily acquainted to the dusty jukebox in the corner of a honky-tonk. But it will be layered with spacey synthesizers, syrupy guitar reverb and dreamy distortion — and still squeeze in a subtle cowbell.
"Was All Talk" takes new wave's splashy grooves and krautrock's ever-driving motorik beat and pairs it with tin guitar tones, all the while soaring along with Vile, who's breathing out his melodious lyrics.
It's a song that travels, stretching past seven minutes, but you never feel like you're listening to a "long" song; it feels like an album unto itself.