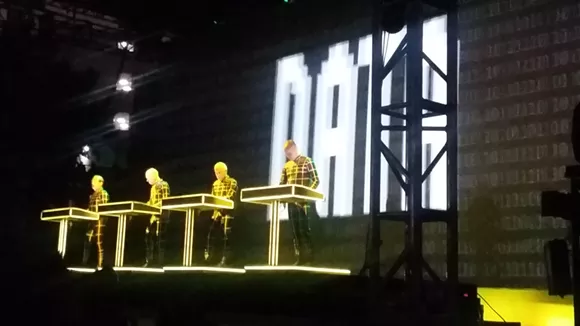 In what some would consider a risky move to kick off opening day for Movement 2016, pioneering act Kraftwerk managed to offer a visual spectacle on Saturday. Instead of closing the fest on its final night as done in years past, the German group opted to perform on the first night, thus proving their legend status was more than enough to keep the momentum going throughout the weekend.
Fans young and old, as well as revelers probably too young to recognize the monumental headliners, packed Hart Plaza's bowl Saturday night – many wearing cardboard 3D glasses – and all in for an intense experience.
We slid our way toward the front of the stage just as the show was getting started. The elusive members entered center stage promptly at 10:30 p.m. – all dressed in black suits with Tron-like striped detailing. Standing in front of a giant platform, they took to individual podiums where they got to work cranking out a classic playlist of hits.
The performance was reminiscent of the group's October visit to the Motor City, when they played for a seated crowd at the Masonic Temple. A few differences during Saturday's show were apparent to die-hard fans, who said the sound and lights from other stages reverberated into the bowl, the shoulder-to-shoulder crowds made dancing all but impossible, and the set was much shorter than last year's show.
Still, the historic significance of Kraftwerk's visit to Detroit twice within the last eight months was not lost of avid followers. While local names like Derrick May, Juan Atkins, Eddie Fowkles, and Kevin Saunderson are credited for launching techno locally, it was Kraftwerk that lay the groundwork in the 1970s and 80s for electronic music as a whole and across the globe. The truth is, when you've got tens of thousands of people all crammed into a concentrated space at once, all to catch a glimpse of one of the most significant acts in the genre's history, you bear with it and just be thankful you bore witness.