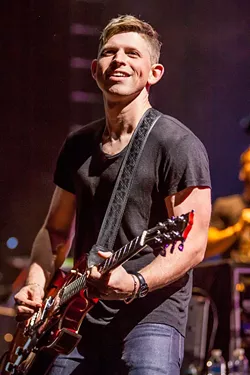 Earlier this year, I wasn't too keen on covering the Kings of Leon show at The Palace, but I went anyways and ended up witnessing one of the best, most well-produced concerts of my life. It's not like the show was anything over the top; there were no Miley Cyrus-esque flying hot dogs or dancing bears, nothing outrageous in terms of stage setup; just good, clean sound, precise lighting, and a constant flow of positive energy from the band. I enjoyed my first KOL experience so much that I made it a point to catch the band's second metro Detroit performance of 2014, this time at DTE Energy Music Theatre alongside Ashes of Soma, KONGOS and Young the Giant for 89x's 23rd Birthday Bash.
Full disclosure: I've been to 10 concerts, including a three-day festival, in the past two weeks. I've seen NIN twice, Soundgarden twice, Jack White twice, OutKast, and Beck. I saw Green Day's Billie Joe Armstrong kiss The Replacements' Paul Westerberg on the mouth in Louisville. My expectations for what constitutes a "great performance" are unnaturally high at the moment.
Kings of Leon met every single one of my expectations. If anything, their latter metro Detroit performance of the year left the first one in the dust.
Taking the stage at promptly 9:10 p.m., the Nashville band of brothers plus cousin (literally, they are all Followills) kicked off a nearly two-hour set with Mechanical Bull's opening track "Supersoaker." Backed by just a video screen that spanned the whole stage, as they had at their Palace show, it was all the band needed. Kings of Leon are a humble group; anything more in production would have overpowered their jam-band-meets-down-South-blues sound. But with clear-cut and defined visuals on the screen, paired with precise lighting, the band had the right backdrop that allowed their music to shine without taking away from it.
Moving into "Taper Jean Girl," the bass was turned up extra high, to KOL's advantage, as it brought out a funky groove from Jared Followill's bass department. Without much banter, they jammed through "Fans" and "Family Tree," then "Rock City." Also like The Palace show, guitarist Matthew Followill played the intro to "Closer" with his tongue. Even though this is the Mechanical Bull Tour, Kings of Leon's set list (both times around) equally spanned their entire six-album catalogue, leaving virtually nothing out.
"We played a show last night and there were about half as many people," says lead singer Caleb Followill. "Detroit loves us!" Kings of Leon evidently love Detroit, too, as drummer Nathan Followill sported a Tigers shirt.
But they also remember an unpleasant Detroit experience, which Caleb shares with the crowd. "Detroit is the first place we ever got booed," he recalls. "It was my first memory of Detroit."
However, he seems to have left that experience far behind, as Kings of Leon played "Dusty" off their debut record Youth & Young Manhood for the very first time in over 10 years, which is not even a B-side but a D-side. Fans at DTE were lucky to have heard it, because Caleb announced it would be the "last time it was ever played." The band also fessed up to the fact that they'd probably mess it up, which is probably why all lights were cut except for a single beam and fog that covered the stage—like Kings of Leon wanted to hide behind the song.
"Dusty" went smoothly, though, as had the rest of the set. The band immediately followed with the hard-hitting and hard-rocking "Molly's Chambers," which includes an infectious groove and catchy guitar solo (it strongly reminds me of a modern twist on Nirvana's "Love Buzz"—the bass is strikingly similar). With red and white strobe-like lighting, the song was one of the set highlights. Another standout number was "Closer", where Kings of Leon asked the crowd to take out their cell phones. Lights filled the 10-thousand-strong audience as Caleb crooned the sway-worthy lyrics.
"Use Somebody" polished off the first part of the set. The band took a brief break, reemerging for a three-song encore starting with "Crawl," then "Black Thumbnail" (a surprising yet electrifying choice), and finally closing by 11 p.m. with their biggest hit to date, the double Grammy-nominated "Sex on Fire."
If there's one thing I've picked up on during Kings of Leon's last two Detroit-area performances, it's their simplicity. This is a band that doesn't have to jump around or smash guitars or dress up their image. This is a band that can merely stand onstage in front of 10,000 people with nothing but a video screen, in normal everyday clothing, and play one hell of a rock show.