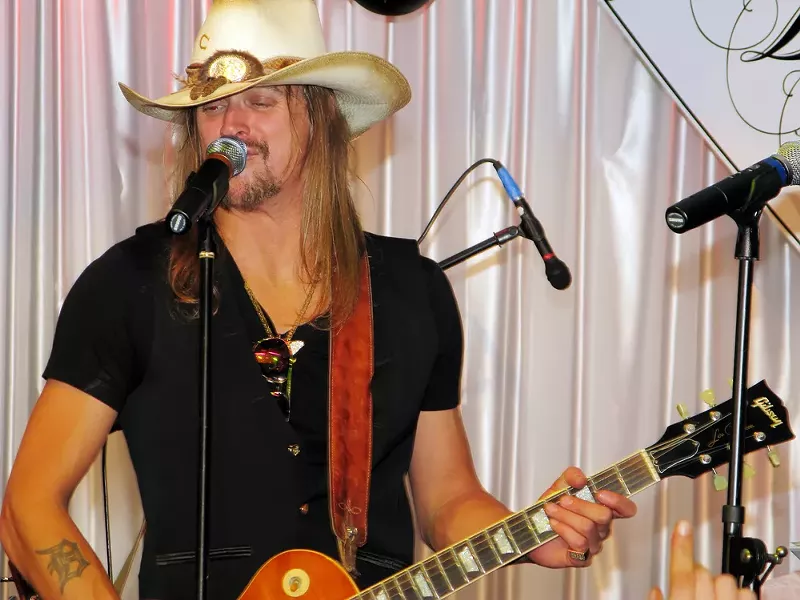 After NPR released a massive list entitled "
Turning The Tables: The 150 Greatest Albums Made By Women
" (which features many Detroit artists like Aretha Franklin and Diana Ross), the wonderful souls at
Jezebel
turned the table again and made an even better list: "
The 150 Worst Albums Made By Men
."
Jezebel
is obviously being cheeky, but this list that they came up with is a fantastic list of objectively bad albums made by men. Some highlights include Eminem's
Relapse
(accurate), U2's
Songs of Innocence
(I will never forgive them from invading my iTunes account like that), and coming in at number one is no other than Kid Rock's magnum opus,
Rock N Roll Jesus
.
Jezebel
didn't offer any commentary on the albums because "that would have required listening to this awful discography again" which is the truest statement ever made, so we decided to give
Rock N Roll Jesus
a listen for the sake of Journalism.
The title-track is the first song on this LP, where our future Senator (please, don't) names himself the Rock N Roll Jesus, which at that point I had to take my headphones off and ask for forgiveness from the actual Jesus for committing to this shit.
After praying to Jesus, the next song is "Amen" in which Kid Rock gets biblical again for some odd reason, and then we are introduced to the most "Kid Rock" Kid Rock song there is — "All Summer Long," a song in which he makes his true transformation from white boy rapper to Hillbilly rock star.
Not only does this song sample the guitar lick form "Sweet Home Alabama," but it uses that lyric and somehow transforms northern Michigan into the backwoods of Alabama, complete with a pint of R&R and a half-smoked Virginia Slim.
After listening to "All Summer Long" (which let's be honest, is catchy as hell yet so, so bad) I knew why
Jezebel
chose this as the worst album made my a man. It's an album so full of self-indulgence and narcissism that it could only be made by a man who uses a possible Senate run to promote his own new music.