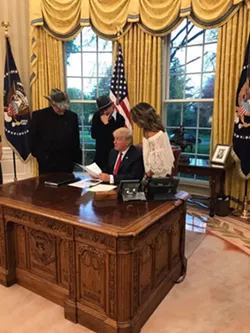 The holy trinity of Trump's America visited the White House last night for a photo-op and we honestly have a million follow-up questions.
Kid Rock, Ted Nugent, and Sarah Palin have been very vocal Trump supporters — all way from the campaign trail to the White House. The trio posed for photos with Trump in the oval office.
This "candid" photo that was shared on Facebook has us thinking what they were actually talking about in the office. Some in the
MT
offices think Trump was telling them his secrets on Russia, but let's be honest, they were probably talking about Kid Rock's new BBQ grill and his future senate run.
Oh, and they also posed in front of a portrait of Hillary Clinton when she was First Lady looking like complete jackasses. Clearly they are trying to mock Clinton and it's not a good look.