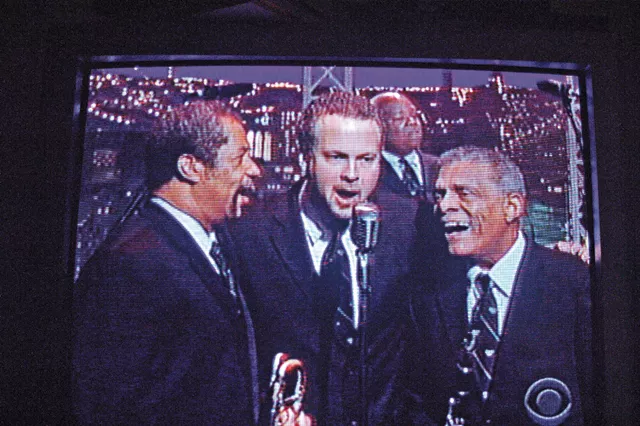 Charlie Gabriel's Birthday Celebration is from 7-8 p.m. Sunday, Sept. 2, at the Absopure Pyramid Stage. A Night in Treme is 5-6:30 p.m. Monday, Sept. 3, at the Carhartt Amphitheatre Stage. 
Charlie Gabriel isn't the oldest musician playing at the Detroit International Jazz Festival this weekend. With his 80 years, he is still two years junior to saxophonist Sonny Rollins. And there could be a few other elder elder statesmen of the music plying their trade at the festival. However Gabriel, clarinetist for the Preservation Hall Jazz Band, is the oldest member of the group that will be performing the oldest music featured at the festival.
"When you get to hear him play, you're hearing 100 years of music," says Ben Jaffe, director of Preservation Hall, the New Orleans institution dedicated to keeping the jazz tradition alive. "It's not only in the traditional music, but the influences he carries. I always say honor and respect the past, but also make room for your own voice, leave your own mark on the tradition, stay relevant and never become a museum piece. We are the people who learned from those who stood shoulder to shoulder with gentlemen like King Oliver and Louis Armstrong. Their music flows down through us. There is a lot of responsibility that comes from wearing those shoes."
Gabriel embodies that ethos. Born in 1932, in the fourth generation of a New Orleans music family, he was taught clarinet and saxophone by his father, Martin Manuel Gabriel, and began playing New Orleans funeral parades at age 11, performing with legendary traditionalists such as Kid Sheik, Kid Howard and T-Boy Remy. He moved to Detroit at age 16 and immersed himself in the fertile bebop scene of the late 1940s. Over the decades, he played with Lionel Hampton's Junior Beboppers, Tony Bennett, Brenda Lee and Mary Wells. He's toured with the Aretha Franklin Orchestra, Joe Simon, J.C. Heard and Teddy Riley. As a leader his bands have played the United States, Europe, Asia and Australia. Over the past decade he and trumpeter Marcus Belgrave have toured and recorded presenting a New Orleans-Detroit connection that has bridge music from Louis Armstrong's Hot Five and Hot Seven to Ray Charles and their own modern recordings. While he is rooted in the tradition, Gabriel's modern and sacred compositions will be featured at an 80th birthday celebration on Sunday.
"I have a little piece of everybody I have played with in me," says Gabriel, just returned from Brazil with the globe-trotting Preservation Hall band. "Speaking by my heart it all means a lot to me because I represent who we are, from great-grandpa on down. I'm glad to be part of this because it extends the legacy of who we are."
Great-grandpa is Narcisse Gabriel, a bass player who arrived in New Orleans from Santo Domingo in 1856. He was the first American of six generations of Gabriel musicians.
Charlie Gabriel grew up surrounded by music. Family jam sessions and his father's band rehearsals filled up his ears, and watching his uncles' careers filled up his dreams. The clarinet, an instrument no longer as popular as it was in the early 1900s, has driven Gabriel's career the past 25 years. When his father passed away in 1984, Gabriel dug back into his roots after having played mostly saxophone since moving to Detroit.
"As a child, all I saw around me was music, my Uncle Percy, Uncle August, Uncle Clarence," Gabriel says. "These people played music all the time. I thought everybody around the world played New Orleans music. I didn't know the guys I was playing with when I was 11 or 12 were making history."
In addition to Gabriel's birthday celebration, the Preservation Hall Jazz Band will be part of Monday's Night in Treme show at the festival. The Treme neighborhood of New Orleans, where Gabriel's grandfather and father lived, is home to Louis Armstrong Park, which encompasses the area once known as Congo Square. In the 1700s and 1800s, enslaved Africans would gather at Congo Square on Sundays creating a marketplace and playing traditional music. The African rhythms kept alive there are part of the bedrock that became American jazz. Numerous musicians grew up in Treme, and the HBO series of the same name celebrates that legacy.
"The Gabriel family is one of the most important musical families in New Orleans history," Jaffe says. "His family predates jazz. Everybody should be celebrating that — everybody."
Charlie Gabriel is Larry Gabriel's cousin and Larry's fourth relative to be part of the Preservation Hall Jazz Band. Larry Gabriel will make a presentation about his book Daddy Plays Old-Time New Orleans Jazz at the Jazz Talk Tent on Sunday at 3:45 p.m. Charlie Gabriel is prominently featured on The 50th Anniversary Collection, a four-CD band anthology of the band's recordings being issued next month on Columbia/Legacy.