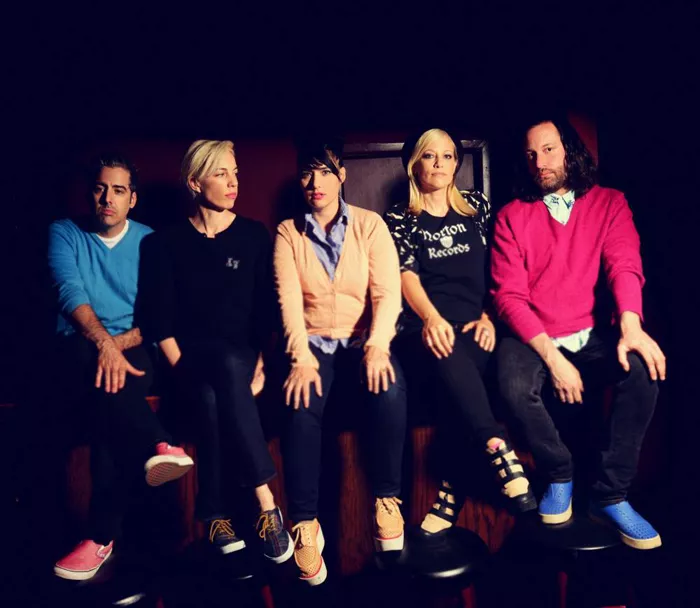 With Bikini Kill, back in the '90s, Kathleen spearheaded the movement that would later be called "riot grrrl," and simultaneously put out some great tunes. In the 2000's, Hanna formed the electro-pop band Le Tigre and reinvented herself. Now, she's back with The Julie Ruin (alongside former Bikini Kill bassist Kathi Wilcox) and the excellent Run Fast album, and she's out on tour. We caught up with her before her show in Ferndale on Tuesday…
Let's get the old bands out of the way early. Is Le Tigre kaput, or just on hold?
That's an interesting question. We've always talked about forming a detective agency, but I don't think that's going to happen. I could see us getting back together and writing. I'm still really close to JD [Samson], but she's busy with her band and Johanna [Fateman] is writing a book, so they have other projects that they're working on. I could definitely see writing with them again. I don't know if we'd ever perform again. It'd be fun to dust off our costumes and get out there and do a show at some point. It's not like we left in this thing of, 'I hate you guys.' Maybe they wouldn't think it was fun, but I do.
"Julie Ruin" was the name you used on your '97 solo album. Where did it come from?
I dunno, I just made it up. I wanted to have a pseudonym so that I could write what I wanted to write and not be like the bitch from Bikini Kill, which is how I'd become known in my town. I was frustrated and wanted to see who I was as a person, and I felt that I could do that if I took on another name. It's interesting that, when you take on another character, you almost learn more about yourself than if you're just yourself. In Le Tigre, we had costumes and backing tracks. I found it so much easier to be really sincere and direct and honest in that band, almost because we had all of that other stuff. It was the same way with making up the name Julie Ruin. I had this artificial character that I could hide behind. Because I had that safety I was able to be even more honest.
How did you meet the guys in the band (besides Kathi, obviously)?
I met Kenny [Mellman] because he was in a drag duo called Kiki and Herb. They're very influential. They had a hit Broadway musical. They're just really amazing. I was a huge fan and I was just like, 'I'm starting another band and I want to work with that guy.' Our drummer [Carmine Covelli] was Le Tigre's lighting guy. When I got sick one time, the crew formed their own band and played to fill in for us because a lot of people still showed up. They got their money back, but they also got to see this band. The guitar player [Sara Landeau] I met when we worked together at girls rock camp in Brooklyn. We coached a girl band of 11-17 year olds together. She's so great to hang out with and I was just like, 'There's my guitar player.' That was my dream team in my head. When it came time to get them together, I was down on bended knee asking them to do it. I was really scared because I really wanted this band to come true. Luckily they all said yes.
The girls at the rock camp being so young, were they aware of who you are?
No, not at all. They were kids – they just wanted juice boxes and cookies. They couldn't give a shit about us. One girl was super into Slipknot. They knew that we were musicians of some kind.
For some of them, there's going to come a time when they're like, "Holy shit, that was who that was."
I did a lecture about the history of women in music and riot girl, because a lot of the girls at the camp didn't know about the stuff that happened in the '90s, because they weren't born. They wanted me to tell them about Bikini Kill, riot grrrl and all that kind of stuff. So I went in like a total nerd and did a Powerpoint presentation. I talked to them about fanzines and riot grrrl. And then I showed them a clip of Le Tigre doing the song "Deceptacon," and they were like, "Oh my God, you're that girl?" They all knew that song. That was the only thing they knew, and it was one of the first times that I ever got recognized for Le Tigre and not Bikini Kill. It was this cool moment.
Going back to Kathi Wilcox, is it fun playing with her again?
It was super normal. It was actually oddly refreshing and normal. There was so much extreme hate or extreme love that was directed to Bikini Kill, and with the Julie Ruin, people are coming to our shows to have a good time. We're not getting this really hyper-negative attention. Having things light and fun is a real change for us playing together. It's so wonderful to be in a band with someone I have this history with, because in Le Tigre I loved JD and I had great experiences on tour with them, but I hadn't been in a band with them before so I couldn't explain how damaged I was from Bikini Kill, but also how many awesome things I learned in that band. With Kathi, I can just look at her when something comes up that reminds me of things that happened in Bikini Kill, and she knows exactly what I'm thinking and vice versa. It's really good fun to be in a band and have a good time with her.
On the "Oh Come On" video, there are moments where you glance at her and she looks up and smiles…
Yeah, and Kathi didn't smile that much in Bikini Kill. She was typically very shy and would often face the back of the stage when she played. She wouldn't even face the audience for years. The fact that she's singing and smiling and facing the audience is a really exciting thing for me. I've seen her grow as a musician over the years, and she's someone I admire very much.
Do you have any memories of playing Detroit?
Yes, but not good. I was playing with Le Tigre at that bowling alley place, the Magic Stick. There was like no security, and some guy just walks backstage and started screaming at me about "Smells Like Teen Spirit," Kurt, Nirvana, and he was mad at me about it. Who did I think I was? I was like, "You need to get out of here." I didn't even know what to do. I think JD pushed him out the door. When she pushed him out, there were like these two stairs. He fell down the stairs, and then he started being like, "I'm gonna sue you." The whole show, we thought he was going to come back with a gun and kill us. He was so crazy. We were just like, "Oh, my God, there's no security."
We apologize, on behalf of Detroit.
It was one of those things where we were probably early and they didn't have anyone to watch the door. I don't blame the Magic Stick or anything. It was just this random thing that I'll never forget because usually, when guys yell at me, it's about feminist stuff. "My girlfriend broke up with me because of you," or "You hate men." That kind of thing. This one was really weird because he was screaming at me about "Smells Like Teen Spirit" and I was like, "Why are you so mad about that song? I don't even know what you're trying to say."
The album and single have been getting great reviews. Is it satisfying when you've been in other bands and you put together a new band and it's well-received?
It would have been a bummer if everybody hated it because I really like it. At the same time, I'm 45 years old, I'm making music and I'm a woman. I put out a record that's got good reviews, people are coming out to the shows, and people want to talk to me. Journalists are interested enough to make up questions. Like, I'm psyched. A lot of women don't have careers in this world. I'm thrilled that people still want to hear what I do. To have a positive reception is totally gratifying.
Is touring harder at 45?
There are other elements in my life that make it a little bit harder, but I think in a way it's a lot easier because I feel really lucky and grateful, because I haven't played for a long time and being back, getting the support that we've been getting, I just feel so grateful. That makes playing shows easier. I know a lot more about taking care of myself and taking care of my voice, about what we can do with the band musically. That makes it easier. When I was younger, I didn't demand that I have a good monitor. I didn't know how to run a soundcheck. Now I do. I'm confident in my abilities, and I get what I want.
What's next, after this tour??
We're gonna take a couple of weeks off and then we'll go to Europe and tour off and on until September.
The Julie Ruin plays with Screaming Females at 8 p.m. on Tuesday, April 8 at the Loving Touch; 22634 Woodward Ave., Ferndale; 248-546-3644; $15.