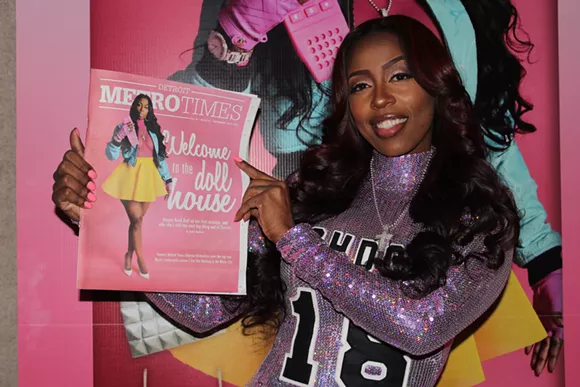 Arkeisha "Kash Doll" Knight teased a few of her family, friends, and media outlets with a full first listen of her debut project,
Keisha vs. Kash Doll
, on Dec. 18 at Collective Studios in Oak Park. The intimate listening party still took place on the expected release date, however the record's release has been pushed back to late December or early January.
Kash Doll's Manager Deb Antney is responsible for the early success of mainstream artists like Nicki Minaj and Gucci Mane. She says the postponement took place because last minute changes needed to be made to assure a perfect debut for Knight. Luckily,
Metro Times
had the opportunity to get an exclusive listen and backstory to the tracks.
Keisha vs. Kash Doll
will consist of a total of 15 songs. There was originally 16 songs, but the track "Fall Down" will be saved for her second project, says Antney. Basically, what you can expect is a battle between Knight and her alter ego: Kash Doll. When you first listen to the project you're introduced to Keisha. Kash Doll is unleashed on the second track, "Cheap Shit" in which Kash Doll screams, rants, and raps all at the same time. Showing her range, she also is delivering unexpected and impressive vocals on ballads "All I Want Is" and "Love Song."
But don't think Knight is shying away from the music her fanbase has grown to love — she's serving up some serious boss anthems and club bangers behind some heavy and hard trap-hop beats produced by Zaytoven. Even though Knight is an indie artist, plenty of mainstream features are accompanying her on hooks and verses such as artists B.O.B on "Buy P*ssy" and Trina on "Options".
Not only did the listening party serve as a sneak peek of
Keisha vs. Kash Doll,
but also cleared up a lot of rumors that have been surfacing. Knight mentioned that she will temporarily be on a few scenes of VH1's
Love & Hip Hop Atlanta
due to her association with Antney, but she says she is currently not interested in casting for reality television shows. She also spoke on her alleged beef with veteran rapper Foxy Brown.
"I have nothing but love for my rap aunties, and I respect all of them. I have no beef with Foxy," says Knight.
With all the promotion, hard work, and even landing on the front cover of
last week's Metro Times
for her first project, Kash Doll hopes her next publication cover will be
XXL
's Freshmen 2016 Issue.
Below, check out "Cheap Shit."
---
Taylor Bembery is an intern at
Metro Times.