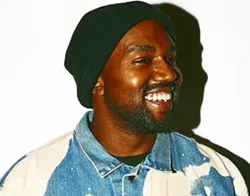 Well, the Kanye West pop-up has popped up and
surprise!
it's actually not in Detroit.
At around 11:00 a.m. Friday morning, the doors opened inside Lakeside Mall in Macomb County to crowds of people excited to get their Pablo gear (white t-shirts with gold lettering and shit).
Apparently, excited Kanye fans had been told the store would open at 10:00am and were none too pleased by the delay. The delay of a store opening by an artist who once penned
a song all about how he's late
, imagine that.
Meanwhile in Detroit, we're rioting because they won't let us in and we can only get 2 items. @TeamKanyeDaily pic.twitter.com/nF1KLc4fJ9

— lil toph vert++® (@ChrisARadical) August 19, 2016
From the looks of it, the space is practically empty, save for a few metal, portable clothing racks. One customer described it as "modern, I guess."
Luckily, the
Free Press
was there asking questions awkwardly, requesting first few customers to show off their duds and disclose how much they spent.
You can watch the stream
here
, it's painful yet slightly amusing.