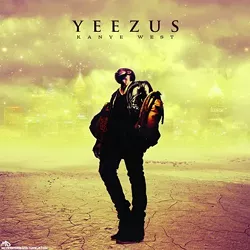 You don't want to read another article about Kanye West about as much as we don't want to write it. "About" is actually a pretty appropriate word here. Because, West is an extraordinarily ostentatious rap god who consistently makes his presence known wherever he goes; because for him, it's always all about Kanye.
His latest album goes for the offensive gusto, starting with the title and ending with his vitriolic raps that are delivered in such a manner it's as if his mouth is ready to munch right into the microphone — or, worse, slam the stand down and come right through the recording to throttle you with the mic cord.
Perhaps Kanye would prefer if the audience refer to him as "Him" — in uppercase, third person pronouns. Consider track No. 3 of this artful egotist's sixth studio album, "I Am a God." The track offers a shock-insistent techno beat with demanding, unapologetic raps that, not surprisingly, offer hyper-defiant, out-of-my-way declarations, which are only interrupted by screeching synths, clattery industrial clangs and then climax with this rap god breathlessly heaving and howling as the recording seems to snap apart and stumble in the face of its divine might.
About 60 percent of this album sounds as if it is intended to melt your face off, in an unwelcoming way. (Imagine the ark-opening scene from that first Indiana Jones movie.) Maybe we're being presumptive? Maybe we don't know who Kanye West is?
In short, this album is a fitful 40 minutes of panicking synth sirens, seething raps and guttural grunts. If Yeezus somehow winds up being your first experience listening to West's brand of hip hop, then it might dissuade you from ever caring about hip hop or, certainly West, again.