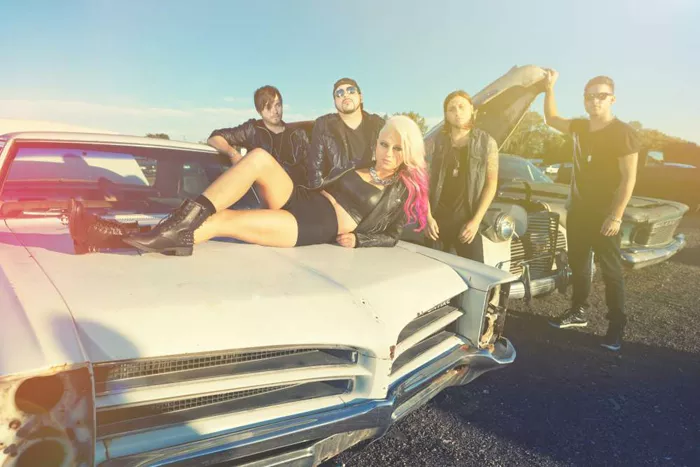 It's the first day of spring, the sun is out and the snow is starting to melt (thank God). We find ourselves in Eastpointe, in a bar called the Fairway, because that's the home-base of local hard pop-rock band Kaleido. The bar is much like any other neighborhood drinking hole — you probably know it well. There are a few pieces of sports memorabilia decorating the wall, Keno pads on every table, a friendly bartender and her surly colleague, a ball game on a couple of TVs, the smell of beer and frying oil, and hardly any customers at 1 p.m. Sat at the bar sipping a dollar PBR, we could be in any city in the Detroit suburbs. And then Kaleido walks in.
The three guys in the band (drummer Joey Fava, and guitarists Ronnie Rosolino and Jamie Allen Burnham — bassist Cody Morales couldn't make it) carry the vibe of a group of men in a blossoming local band. They're unspectacular, in that they look like any group of rock-loving youngsters hanging out in any bar. But there's a natural, positive sniff of arrogance about them. These boys know that they're on to something.
Singer Christina Chriss is the band's not-at-all secret weapon. She's the difference, the X-factor, that helps them make the leap from "decent but ordinary local rock band" to "Holy shit, you have to check these guys out."
That's no disrespect to the men in the band — they're all very good musicians. But Chriss is the frontwoman, the focal point, and with her mane of blond and pink hair, carefully considered style and natural beauty, she plays the role wonderfully.
Kaleido is playing the Blowout Festival this year, hence this interview. The band isn't typical Blowout fare, but it has made itself impossible to ignore over the past year, putting out a well-received debut EP and preparing a second (Unbreakable), and performing to an ever-expanding number of people. Kaleido deserves the opportunity.
The band members, all in their mid-20's, live together in a band-house in St. Clair Shores, and the business of the band (plus the occasional acoustic gig) is the only source of income for all of them. They live Kaleido; Burnham will work on the website while Rosolino designs flyers, and the other guys do some admin or noodle out a new tune. It's communal living, in the great tradition of the '60s band houses occupied by the likes of the Stooges, the MC5 and the Alice Cooper band. It's really not so common anymore.
Kaleido formed in 2011 when the Christina Chriss Band performed on a bill with Fava's old group, Robots in the Garden. A kinship blossomed, friends joined, voila. Chriss and Fava pretty much take over this interview, the drummer and the singer being the biggest personalities in the band. Burnham and Rosolino sit back a little, but when they do speak it's worth listening.
Musically, the band successfully taps the power pop and hard rock veins and, while the sound isn't unique by any stretch of the imagination, it is quirky and catchy enough to stand out from the crowd. Hooking up with Embarco Entertainment hasn't hurt them, the local agency ensuring that the band is seen in all the right places and afforded all available opportunities.
Chriss says that she writes lyrics about "stuff that I've gone through, and stuff that I think other people can relate to. Relationship stuff. Also, we have a song on the new record called 'My Rock 'n' Roll,' and it's focusing on the frustration over the current state of pop radio. Just stuff that I think about, stuff that matters to me, stuff that I went through."
That's basically the answer that we would expect. Honestly, the lyrics are not going to leave Dylan sleepless. But the melody combined with the unrelenting rock energy is what makes the songs listenable. Chriss can hold a note too.
The guys say that they live like a modern Monkees, but it's their time in their 39-foot '89 school bus-turned-tour bus that causes the inner demons to surface. Eventually, something has to give. "We were parked in this New York RV Park in the summertime and we had to do a show," Favo says. "We think it's gonna be awesome. We go there, and it's just a gravel parking lot, like a prison yard. We park the bus, and it's on an incline the whole time. We're trying to sleep at 5 a.m., the sun's out, there are windows everywhere because it's a school bus. Christina was having a hell of a time, she just ran off the bus. In New York, she was gone at 5 a.m."
"I think the Warped Tour Cleveland was the worst," adds Burnham. "It was 100 degrees at least. There's no air conditioning so we built this indoor air conditioner unit that shoots out the window. Cody partitioned off parts of the bus with blankets to try to help insulate it, and it literally did nothing."
On the few occasions when they're not doing something band-related, the guys work out, or play computer hockey. "We're not huge video gamers," says Favo. "Christina ended up getting an Xbox for Christmas for us to play with. We get this NHL hockey game, and now it's like, 'Oh my God!' Every free second that we have, we do that. It's a release for us. We get nasty sometimes, talking shit. Instead of us getting hammered and actually fighting, we play the game."
The band, which is putting out a second EP right now, is pining for a tour with the Foo Fighters or Guns N' Roses. For now, the Blowout will have to do, but these guys are pumped. "A lot of bands don't want to win over people," says Favo. "They think they're above that. We love going to a show and trying to prove ourselves. It's a chance for us to play to the indie crowd. They might look at our pictures and be turned off, so when they see us play I think we'll win over a lot of people."
They stand a chance too.
Kaleido plays the Metro Times Blowout, April 30-May 3; mtblowout.com.