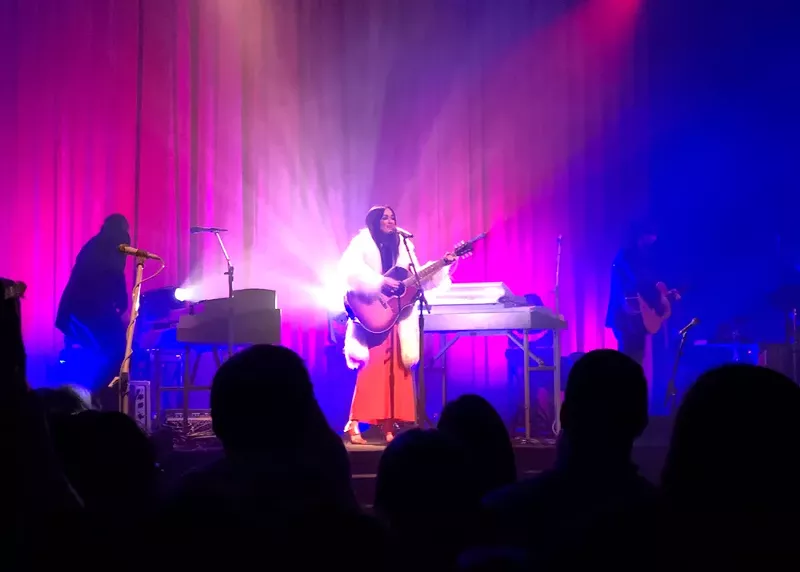 Stepping out on the stage Thursday night at the Royal Oak Music Theater in a gorgeous burnt orange dress and a giant, fabulous furry white coat, Kacey Musgraves proved in just that very first moment why every show on her tour is practically sold out.
The past year has been a hell of a ride for Musgraves, who released her third studio album,
Golden Hour
, to critical and commercial success in March of last year. The record sees Musgraves venture away from the country twang that fans know from her, exploring different sounds and melodies.
Don't get me wrong, the album is still
plenty
country, with a steel pedal guitar and heavy emphasis on the banjo. But its the funky bass lines in songs like "Butterflies" or the disco beat in "High Horse" that elevate the album into sunshine bliss — so much so that it earned Musgraves four Grammy nominations, including Album of the Year.
Musgraves noted at the top of the set that she had many new fans since
Golden Hour
came out, and that showed at the Royal Oak Music Theatre. The venue was packed, and Musgraves played every song from the album.
Boot-stomping songs like "Lonely Weekend," "Velvet Elvis," and "High Horse" had the entire theater dancing along with Musgraves, who looked like she was having the time of her life. The ballads were just as incredible, including a new arrangement of "Merry Go Round" from her debut album that turned into a group sing-a-long when Musgraves pointed the mic to the audience.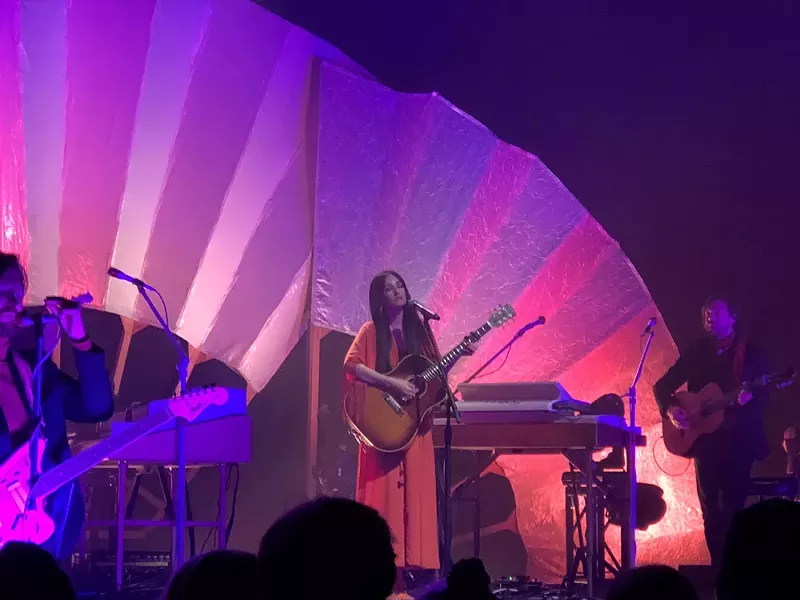 Musgraves herself was such a joy to watch on stage, too, not taking herself too seriously in the slightest, cracking jokes about getting stoned later with her bandmates (one of which she says always has dabs set up for her, which really made me wonder what it would be like to get high with Musgraves) and even dropping some rib-ticklers as she sang. While performing the title track "Golden Hour," Musgraves sang "Golden Showers" and the fans around me all busted out in belly laughs.
"When I say 'yee' you say 'haw,' OK?" Musgraves said at one point to the enthusiastic crowd. It was a fun attempt to rev up the audience, but Musgraves' silly personality made it one of the most fun and most memorable moments of the night.
Natalie Prass from Richmond, Va., was a perfect opener for Musgraves, as her funky southern pop music got the crowd perfectly warmed up. Prass later joined Musgraves on stage toward the end of her set for a cover of "I Will Survive" that had the entire theater dancing and singing along.
Musgraves might not be
country music royalty yet
, but her devoted fan base of mostly women and members of the LBGTQ community (she was recently a guest judge on
RuPaul's Drag Race
to give you an idea of how much the gay community loves her) will make sure that Musgraves is around for a long time, yee-hawing her way up the charts.
Get our top picks for the best events in Detroit every Thursday morning. Sign up for our events newsletter.