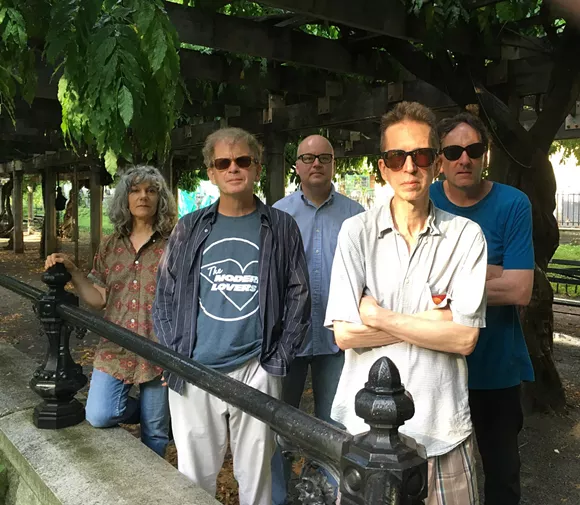 This is seriously the best news. I myself have seen this band live a dozen-plus times since 1985; they are one of the best live rock and roll music bands of ever. They will be performing two sets. Two sets, the fucking
Feelies
! Holy moley.
With a few lineup changes at the start, and a couple hiatuses since then, the Feelies have been together for over 40 years now. Their highly-influential music is characterized by strict attention to volume, repetition, and the implementation of subtle changes in tempo and dynamics. This is not a band you stand in the back of the room and talk over; they will drag you down like a heavy undertow if you do.
Two sets of the Feelies in one day is for some of us far better than an entire festival with dozens of loud, wailing, emotive, and earnest acts. Two sets of the Feelies is all we could possibly want from one evening of music.
Here is a group from the suburbs of New Jersey who never pretended to be otherwise — who played the toughest downtown NYC clubs in the late 1970s dressed in pleated slacks and polos. This is a band that learned from the Modern Lovers, from the Velvets' third album, and from modern minimalist music —back before all that stuff was canon, before it was even a decade old— and created something entirely new.
The Feelies upended traditional rock 'n' roll cliches and song structure to arrive at their own beautiful jingle-jangle mourning, propelled by a submerged and insistent force — oh, let's just call it New Jersey
motorik
.
These are older folks; co-founder Bill Million saw both the Stooges and MC5, in his own youth. What's remarkable is how fresh the Feelies' music remains. It's so smart, and so unpretentious. And it makes you feel exactly alive as when you first start to fall for someone and you stay up all night just talking to each other.
The show is this Sunday, July 16. Do not make any plans, aside from plans to be there.
Get your tickets here
. We have been informed that for some strange reason, the show has not sold out yet.
There are two tiers to admission. General admission is $35 (for two sets of a band worth driving hours to see play). And then if you pony up $60 for the VIP level, you get two drinks, an entire
Pepe Z pizza
, and a limited edition signed poster.