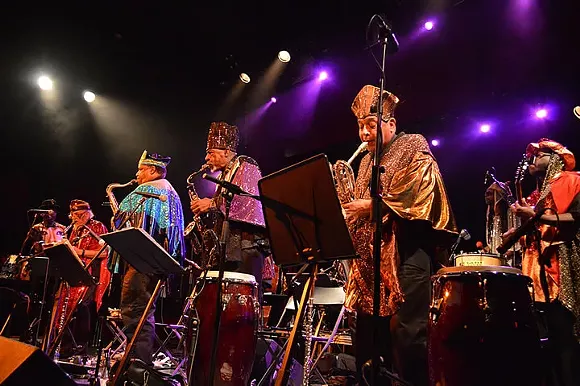 This is such stellar news. We just learned that the Sun Ra Arkestra (under the direction of Marshall Allen) will be performing at El Club on July 18.
Tickets are available here
.
During Sun Ra's lifetime, his Arkestra were a huge influence on the MC5, who
covered them
on their infamous first album. That's of course due to John Sinclair's love for Sun Ra; Sinclair brought them to Ann Arbor and Detroit regularly, and even published a
book of his interviews
with the visionary artist.
The fertile local jazz scene in the 1970s (Tribe, Griot, etc.) owed a debt to their fierce explorations, and even occasionally shared some members (notably Wendell Harrison and Faruq Z. Bey) with the Philadelphia-based ensemble. Sun Ra did a
residency
at the Detroit Jazz Center around New Year's 1980/'81, where he was given a key to the city. Sun Ra played here regularly until his death at the age of 79 in 1993.
The Sun Ra Arkestra carries the torch of his powerful music in stirring fashion. I myself am lucky (and old) enough to have seen the Arkestra approximately 30 times while Sun Ra was alive, and then five or six times since he's passed. This will truly be an event not to miss. People say that all the time, but in this case, it's true.