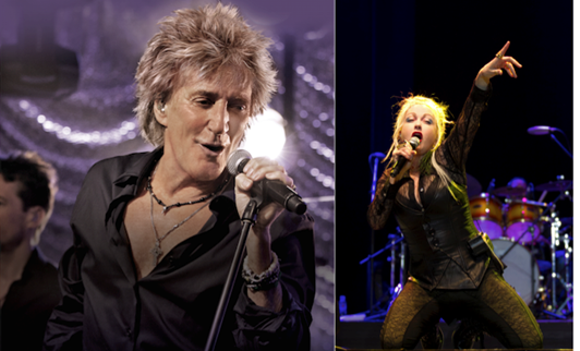 Rod Stewart and very special guest Cyndi Lauper will perform at DTE Energy Music Theatre on Aug. 1. Tickets will go on sale this Friday, Jan. 27 at noon via these nice people
here
.
Sitting here on this cold and drizzly day, the idea of a show like this in the summer sure sounds like fun. The summer is when we get to all go to large venues to shout along at the top of our lungs to the music that made us feel alive when we were teenagers, as it is performed by the no-longer-young icons who made those songs in the first place.
A weird dude next to you vaping something that smells like both diesel exhaust and Fruity Pebbles. Jumbotrons, sticky cement, hot dogs. How many cars do you think were on the road on your way in here? Stone-faced security guards, floods of memories to when you first fell in love with this music, and missed notes — plus those that somehow still get hit, all these years later.
And while every rock critic ever has berated Rod Stewart at one point or another for betraying his talent in favor of easy hit-making, both his early work with the Faces and those later hits are certainly worth screaming along to. Let's just hope they don't forget that delightful, Renbourn-y intro bit to "Maggie May."
Cyndi Lauper was ahead of her time in so many ways. From her early connections to a larger entertainment subculture (wrestling) to her celebrations of girls just wanting to have fun (you know), the time is right to go see Ms. Lauper live.