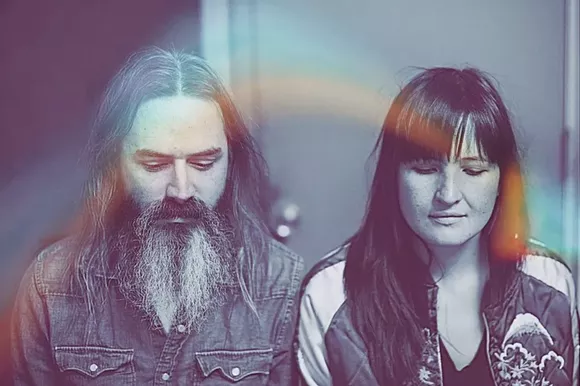 We learned this week that the mighty West Coast drone-pop/heavy groove band
Moon Duo will play El Club on April 22
. Tickets are already on sale and they're $13.
This is such good news because we are already head over heels stoked about their fifth studio album,
Occult Architecture
, recorded at Type Foundry and in the duo's basement, last winter/spring. The album was completed at the same time as another full length, its companion record,
Bounce
, which will be released just before this tour starts.
Occult Architecture
is a breakthrough for the group, in terms of sensibility and sound. Some of it sounds like a spaceship choking on sand, and all of it should be the soundtrack to a giant, big budget film. This band has always been excellent, and principal members Ripley Johnson (guitars, vocals) and Sanae
Yamada (keyboards, vocals) have made a big, dark conceptual record that unfortunately is the perfect soundtrack to our times.