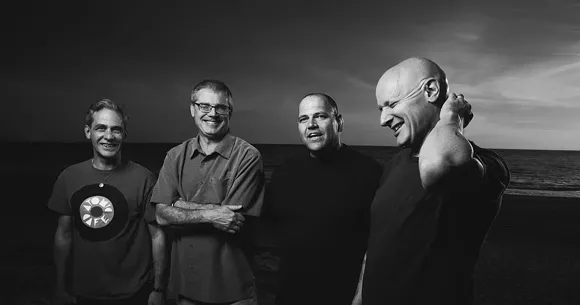 SoCal pop-punk progenitor/geniuses the Descendents will grace the stage at the Fillmore Detroit on Friday, April 21. It's an all ages show and tickets are available at the price points of $25, $30, $35, and $45. They will go on sale this Friday, Feb. 17 at 10 a.m.
You will be able to purchase them
right here
.
I don't think I've seen them myself since they toured behind
I Don't Want to Grow Up
(which was OK, but as you know, it's no
Milo Goes to College
), and played the Cameo Theater in Miami Beach on Jan. 11, 1986 (thanks Wikipedia, for providing that date) with Dag Nasty and Die Kreuzen. That show was very personally memorable because the singer from Die Kreuzen was really confused at my t-shirt — a Grateful Dead long-sleeve which I'd turned inside out, applied white paint to, and made into a Sonic Youth "Kill Your Idols" tie-dye. Also, Die Kreuzen was great then. And so were the Descendents! Their songs might not have aged so well lyrically, but holy hell they do pack a punch.
That show was important for me too because it showed that not all hardcore was super lame at this very late time for the genre (1986). While I saw Black Flag at the start of 1983, I was a bit too young to have seen any of the best bands during the music's creative flourish of 1979-1982 (also hardly any of them made it al the way down to south Florida).
Almost all hardcore punk after 1983 is ridiculously boring to me, personally. It seemed to quickly become a highly reactionary movement. The Descendents' bubblegum sensibility injected a new energy, for a brief bit (and we have to remember to not blame them for 1990s mall pop-punk).
My perspective on the music is partly to be blamed on the fans and "the scene" at the time. Going to shows in suburban Florida in the early to mid 1980s, most hardcore kids would show up at the shows for the weirder (and increasingly slower-tempoed) bands I loved — Meat Puppets, Husker Du, the Minutemen, Redd Kross, even like John Cale — and just fuck things up for everyone else. You can't stage dive to "Swimming Ground," sorry, go home.
Three things that Milo Goes to College taught me at the time (though I didn't buy it until 1983, a year after its release):
1)
Albums don't have to be longer than 23 minutes in order to be fully awesome, to create their own little universe.
2)
"Parents" is the best song for a bratty, terminally upset 16 year-old. It always pissed off my Dad when I played this record loud, and there was never any other way to listen to it.
3)
Bill Stevenson is a fucking monster drummer.