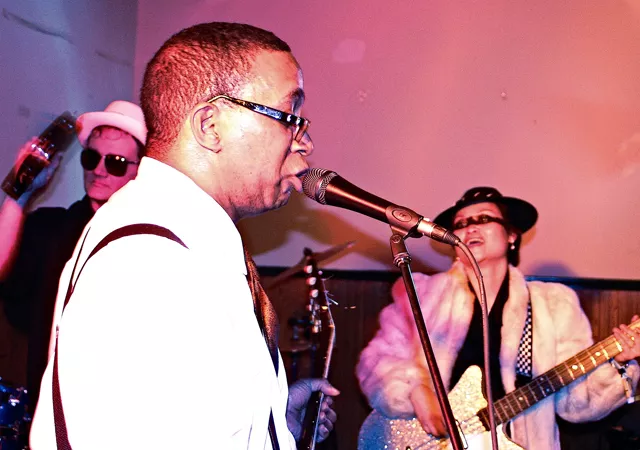 If you've been paying attention to the music that's risen out of Detroit in the last 30 years or so, chances are you've run across the Algebra Mothers' "Strawberry Cheesecake" single. It's a hot, post-punk-new-wave 1979 burner that represents the only recorded output of that short-lived band. The record's resurgent popularity via word-of-blog in recent years — Henry Rollins even picked one up recently — might lead you to wonder where the hell they are they now. In the case of guitarist, songwriter and singer Gerald Collins, the answer's easy. His new combo, Jeecy & the Jungle (Gerald Collins = GC = Jeecy, geddit?), kicked out the jams at this year's Hamtramck Blowout fest in March with a batch of striking new songs in a set that left no patch of G of C Lounge carpet unclaimed. It was a house full of dropped jaws. Truly. We had to know more about this band.
Turns out this guy Gerald Collins has not been frozen in time between '79 and March '11. Living and working between Detroit and New York through the '80s and '90s in a series of bands that lasted "about a minute — or less than a minute probably" including Warrior Soul and 67 Riot ("in New York City they probably didn't get the reference, so that might've been a wasted name") — Gerald landed back in Ferndale in the early '00s, working for a hotel chain. A few years ago, his prog-rock cover band (yes, a prog rock cover band) called Chromophobia was tapped to play Blowout: "That [prog rock cover band] was just me warming up the hands again, 'cause I hadn't played in a long time," GC says. The band sparked Collins' interest in writing and creating music again. Hence, Jeecy & the Jungle.
Offstage, Gerald tells absurdist jokes; he's self-effacing and sports a catchy laugh, a funny man in the "ha-ha" sense. Onstage? He's a dude on a mission. From his unhinged screeches and howls to his Beefheart-meets-James White guitar solos, Collins sings and plays as if every second onstage is his last on earth. And he's assembled a killer machine of a band that charges through the post-punk-new-wave-funk of his songs like haywire tentacles of some beautifully crazed robotic octopus.
Here's a conversation with Gerald that covers the genesis of J&J, his plans for it, and electricity that can be generated from an old wooden box with strings.
Metro Times: When did you start thinking about making music again?
Gerald Collins: About two years ago, it struck me that this is what I always wanted to do ... that I'd be willing to carry the equipment into a dark, dank club in the middle of the night and make some noise and see what would happen with it, so we ended up putting this band together in December of last year.
MT: How did this lineup come together?
GC: When I had come up with some music that I wanted some friends to hear, I had them come by and listen. A lot of my friends are musicians, and I really hadn't intended for anybody to get drafted into playing music with me, but it just kinda turned out ... I had a friend who played drums, a friend who played keyboards, a friend who played bass, so we decided to piece it together. We ended up playing at my New Year's Eve party. ...
MT: Are these new songs? Any older ones?
GC: There's maybe one or one-and-a-half that are more than 10 years old, but, for the most part, this stuff is new.
MT: It's an interesting mix of punk, blues, R&B, soul ...
GC: James Brown was definitely a big influence, just trying to see what I could do in a funk type of vein because I really hadn't done a lot of funk stuff before; I'd played blues, and various hybrids of music ... I thought, "Wow, James Brown's pretty exciting stuff, and I did want to do 'Please Please Please,' so if I go ahead and learn this song and then see what I learn from learning it, what I learn about the genre in general" — and that was pretty eye-opening, so I ran with that, and just kept throwing in stuff that I always do, which is like a high-energy, wanting-to-pull-your-hair-out kind of music. ... I felt it was at least worth pushing to the next level.
MT: There's definitely a country-blues influence ...
GC: If you play long enough you start to hear everything you've digested, and you go "I forgot I ate that."
MT: I think that first performance in March surprised a lot of people — it was a statement. Did it surprise you?
GC: Definitely. You don't really know what to think, but when you get some musicians together — especially when the musicians are your friends and you don't really know if they feel a little bit obligated to do it — you don't really know whether this is really clicking with everybody. But to get the reaction we got, which was nothing short of just astounding, was great. ...
MT: You've also talked a little bit about solo acoustic shows, which would be interesting because the electric set is so ... high-energy electric.
GC: Absolutely. Sometimes I'm sitting around playing acoustic guitar and I say, "Wow, this makes me want to jump out of my skin, just sitting here with an acoustic guitar sitting on my lap."
MT: How does it feel, 30 years on from the initial spark, to be back and receiving the kind of attention you've gotten?
GC: [laughs] It's absolutely a riot. I'm real appreciative that there were kids coming out and that they got what I was doing; I really didn't expect that. I mean, when you play your own music you always think, "Well this is pretty good," but you don't know how it's gonna make other people feel. And if you seem to make other people feel pretty excited about being in a room full of guitars and noise, I just can't help but be ecstatic about that ... we're excited to do more.
MT: It's safe to say that Detroit is a pretty good city for music.
GC: Definitely. It always was, but it's even better now than it was when I originally left here, by far. There's a lot more bands, there's a lot more excitement. ...
MT: A lot more places to play ...
GC: Well, in those days it seemed like there were only about nine bands, so it kinda worked out! There weren't a whole lot of people playing originals in Detroit back then, so you didn't really need a lot of bars that were there for that purpose. The bars were there to sell drinks, and people filled the bars by playing cover songs that everybody already knew. It kinda worked out, a small scene and few bands. But now you've got bands doing all types of stuff, you've got a lot more diversity, and that's pretty exciting. You can see all the different things that are going on in and around Detroit, and we're just really lucky to be a part of it.
Jeecy & the Jungle plays Friday, July 15, at North End Studios/Sparklewood, 2937 E. Grand Blvd., Detroit, with Red China (CD release), the Wax Ocean, Crappy Future and ScareBear.