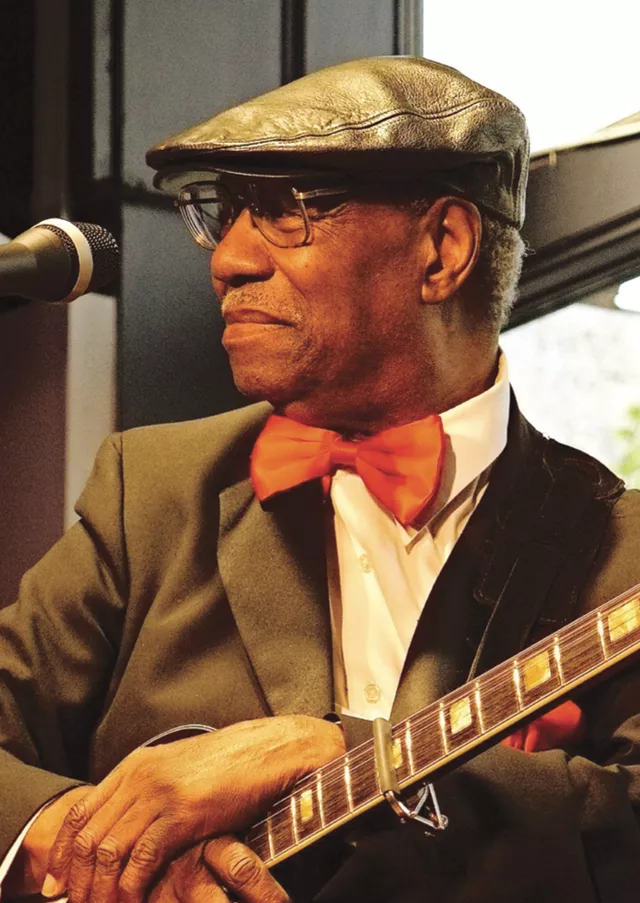 Detroit's music scene lost another connection to its past on Saturday with death of Johnnie Bassett, a blues eminence rooted in the era of Fortune Records and such legendary spots as the Frolic Showbar. The singer-guitarist-frontman died at St. John Hospital in Grosse Pointe, losing a battle with cancer that had hospitalized him about three weeks earlier. He was 76.
"It sounds trite, but we won't see any more like him," said publicist Matt Lee, who had known and worked with Bassett for years. On his Facebook page, saxophonist Keith Kaminski of the in-demand Motor City Horns lamented the loss of "a friend and mentor of over 18 years. ... I will cherish every moment we shared together and he will always be with me in spirit for the remainder of my life."
Bassett had recently released his second CD for Sly Dog, I Can Make That Happen. And while no one harbored notions that it would make him a late-life star, it was the kind of polished contemporary blues record that would likely have given his substantial career another boost on the scene beyond Detroit, while reminding the hometowners of another great talent in their midst.
Until illness sidelined him, he'd been playing a weekly spot at Northern Lights Lounge, and he made the rounds of spots like Cliff Bell's and the Dirty Dog, which is owned by jazz patron Gretchen Valade, a major Bassett booster. As the story is retold on the Mack Avenue Records website, she was sold on him after hearing his rendition of "Georgia" in her club. Inquiring about his recording situation, she found he was unsigned, committed on the spot and inked a deal shortly after, putting him on Sly Dog, Mack Avenue's blues arm.
He certainly had the experience and backstory: Joining his pianist buddy Joe Weaver in Joe Weaver and the Blue Notes in the mid-'50s, he became a regular at Frolic Showbar, backing the likes of Dinah Washington. "The band was eventually playing gigs with John Lee Hooker, Big Joe Turner, Ruth Brown, and Eddie Burns and a tenure as the house band for Detroit's Fortune Records label," according to the Mack Avenue website.
There were day jobs in subsequent years, but he never abandoned music. And he stepped out front in a big way during the 1990s following a Detroit jazz festival gig with drummer R.J. Spangler. That led to the formation of the group the Blues Insurgents and a long-running residency at Greektown's Music Menu, not to mention records and touring in the United States and Europe.
Never flashy, Bassett brought to the stage more smolder than flame — but you couldn't miss the intensity of the smolder. He wanted to bring you into the music, not to bowl you over. His voice was relaxed; his guitar work was about putting sharp stings in a jazzy flow of notes rather than wailing and hammering at a four-to-the-floor beat.
"I like my music to be happy. I like my music where people find themselves humming it, whistling it, and playing it over and over again," he told MT's Brett Callwood for the City Slang column back in June. He also made clear to the writer, as he had to everyone who met him, that he deserved his nickname "The Gentleman of the Blues," although he confessed he wasn't quite clear where it had come from.
"I'm an even-tempered person," he said. "I don't really let anything upset me. I try to treat everybody right, and I respect everybody like I want everybody to respect me."
Bassett is survived by his wife Deborah, daughter Benita Litt, and his wife's children, Lynn Tolbert, Courtney Campbell and Kenneth Pringle. Visitation is Friday, Aug. 10, from 3-8 p.m. at the O.H. Pye III Funeral Home, 17600 Plymouth Road, Detroit. Services are Saturday, Aug. 11, at 11 a.m. at New St. Mark, 24331 W. Eight Mile Road, Detroit; family hour at 10.
W. Kim Heron is editor of Metro Times. Send comments to [email protected].