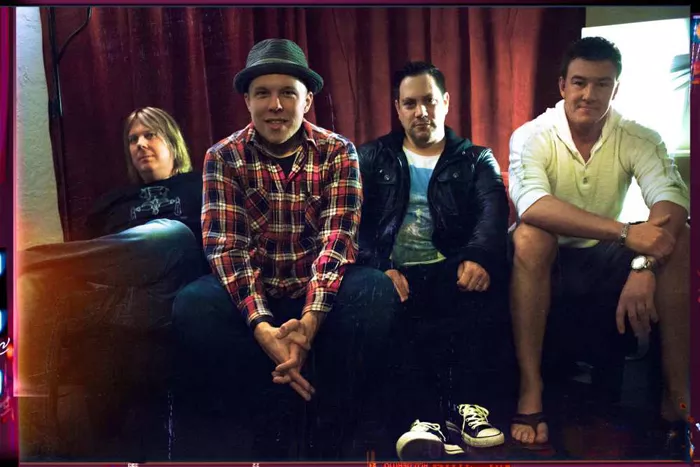 When the Ataris formed in the mid-'90s, they swiftly went on to become one of the buzz pop-punk bands on a pop-punk-heavy rock landscape. However, it was the release of the So Long, Astoria album in 2003 that saw them shift up a couple of gears and get serious radio play, thanks to a cover of Don Henley's "Boys of Summer." A couple of years later and the band was gone, and all but forgotten. It's back though, and performing that So Long, Astoria album in its entirety. We spoke to guitarist John Collura to find out more …
1. What prompted the reunion and this tour?
It was actually kind of simple. A year ago exactly, in March 2013, I got a phone call from the band's longtime manager Darren Lewis. I hadn't spoken to him in a couple of years but he had been talking with Andy Somers, the band's booking agent during those times, and he was kicking the idea around of possibly getting the band to do some shows again. It was really that simple, or that part of it was simple. Getting it together was different. The four of us hadn't really spoken in a long time. We talked to each other for hours, we figured it out and that was it.
2. Do you guys have any plans to record again?
That's the unspoken stuff that's going on right now. We're not talking about it all; we're just playing the shows and that's it. You never know what can happen. It's not something that I'm bringing up, or anyone else is at the moment.
3. What do you have planned for the set?
Besides So Long, Astoria, we do a few other songs at the end of the set too. We really didn't have that much time to rehearse, so we concentrated on getting the 12 songs down as best as possible. After we play, Kris [Roe] plays a few old songs on his own, then we come back and play a B-side and then another old song together.
4. Do you have any fond memories of Detroit?
St. Andrew's Hall is great. Clutch Cargo's was always a good show too. My biggest memory of ever playing in the Detroit area was I think the 2001 Warped Tour in Pontiac. Kris had a Cherry Wine Les Paul Standard, a great guitar. He had recorded a lot of stuff with that guitar. I don't know what the hell he was thinking but, at the end of the set, he jumped in the crowd and was crowd-surfing while he was playing, he just took it off, and chucked it. I swear to God. I believe he re-bought it back on eBay.
5. What's next, following this tour?
I'll probably go back to work and be an adult again. I own a recording studio outside of New York City. Mike and Kris own their own businesses, and it keeps them busy. Personally, if it continues the way it has been, everybody's getting along and we're giving each other room and respect, I would love to do it again. We'll just continue to enjoy ourselves now. I'm comfortable with the way things are going.
The Ataris play with Authority Zero, Drag the River, and Gasoline Heart at 6 p.m. on Sunday, March 23, at the Shelter, 431 E. Congress St., Detroit; 313-961-8961; $27.