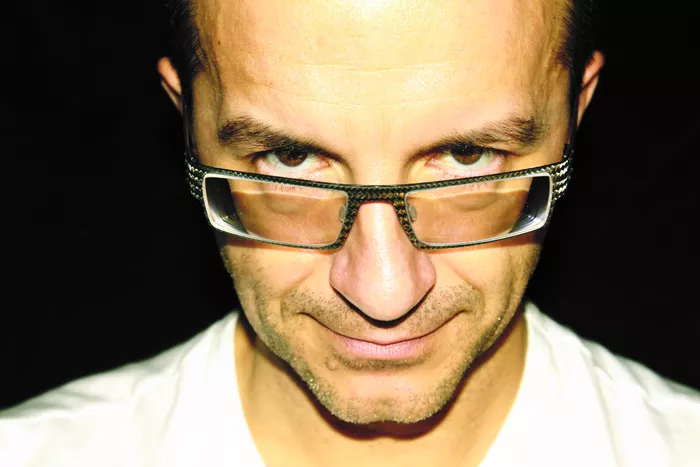 Canadian DJ and producer John Acquaviva is no stranger to Detroiters. He founded the Plus 8 label with Richie Hawtin in 1989, cementing his role in the techno scene. Five years later, the duo founded Definitive Recordings. Nowadays, Acquaviva continues to run Definitive and, while he might have slowed down a little, he still gigs regularly. He's in Ferndale this weekend, so we caught up with him via Skype during a European festival run.
1) You're Italian born. When did you arrive in Canada and how often do you get back to Europe?
I'm actually in Europe right now. I go back and forth. The history I have with Richie Hawtin is that we're both European. I came over when I was 4 and he came over at a young age too. We grew up in Canada, and that's the story with a lot of people in Canada. Basically, I'm very Canadian. I'm in Barcelona for Sonar right now, and I was just with Rich last night — he was doing his Plastikman show. We're all hanging out together, so lots of old-time friends and family.
2) You founded Plus 8 with Richie Hawtin, so you're no stranger to Detroit techno …
No, I have a long history in Detroit. I love Detroit and consider it one of my hometowns. We're very proud to have been part of the scene. I've got a lot of roots in Detroit. I've been a lot slower — I'm not gigging every weekend. I just do a couple of key clubs and for me, one of them is Grasshopper. It goes back to my roots — a nice, small club, and it's about playing good music. Not any particular genre; it's just about having a good time and it's just a wonderful club. I play there about every three months. The last party was with Kevin Saunderson, and it was rammed. This will be nice because it's summertime.
3) How has your sound and style evolved in recent years?
I've got a long history DJing; I've been DJing forever. As a young kid I loved disco, and I played it at school dances. I started sneaking into clubs and loved house and techno music. I played all styles. We've been part of a number of styles. We don't want to go too deep down the tunnel. I'm always trying to either do something old or something new — it depends on the mood of the night. I just like to play good music. By always being open, I think you can keep evolving.
4) Do you listen to new music?
I go in phases. For DJing, you've always got to listen to new tunes. When I'm listening to music, clearly I'm listening to my favorites, depending on my moods. Sometimes I like silence. There's a time for everything. Work is music, so the last thing you want to do is do that in your free time, so I do a lot of cooking.
5) What are your plans for this set?
Grasshopper's always a good time and I'm actually super comfortable there, so it's not about trying to do a super-trendy set. It's just about having a good time with your friends. That means that often, I'll pull out some old classics. The smaller clubs are definitely more housey than techno. That's my intention, but you never know. We may have too many drinks and get a little hard. A night should go anywhere you want it to.
John Acquaviva plays with Jan van Lier and Golf Clap at 9 p.m. Friday, June 20 at Grasshopper Underground, 22757 Woodward Ave., Ferndale; 248-298-0330.