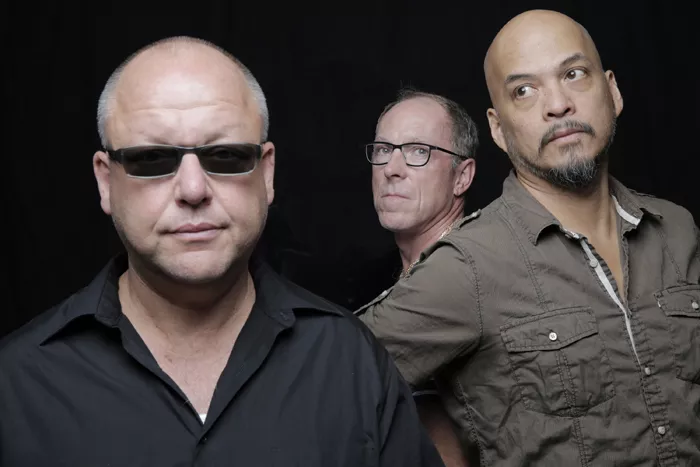 Toward the end of 2013, the Pixies put out a couple of new EPs and hired a bass player, Paz Lenchantin (formerly of A Perfect Circle), to replace longtime member Kim Deal. Changes are afoot in the Pixies camp, and we'll get to see the new lineup in the flesh when the band plays the Fillmore this week. We caught up with guitarist Joey Santiago before the show to get the lowdown.

1. Fans will always be precious about the Pixies catalog — do you feel pressure going in to the studio to record new material?
There's always pressure going to the studio — that's never changed from the very first record. We try to please fans, but we try to please ourselves actually. In the studio, it's our time to get selfish and entertain ourselves. There's always the sonic value of the Pixies sound. The sonic fingerprint, if you will. We always had it with Come on Pilgrim and Trompe le Monde. There's a growth period there. I think people go to bed with either Surfer Rosa or Doolittle, or have their ménage a trois with both records. We should be expected to grow, and still have that sonic fingerprint. I think the critics will eventually turn around and like the new material, I really do. Bossanova was not so well-received, but people like it now. Time heals.
2. Why did you choose Paz to replace Kim?
Her musicianship, and her professionalism. On the very first day that she came in, she knew every song and every nuance of it. This is our first tour with her and, hanging out, she seems like an easy hang. We're very introverted and very quiet people. Not to say that we're not fun — we're hilarious. She came highly recommended, and that's about it. She's got the chops. We love Kim, but it has come to the point where we don't even think about it anymore. We just book tours, and then for me, what time do you want me to show up? I'll be there, I'll get in the bus, check in, play, next town … there's no time to reminisce right now.
3. Do you have any good memories of playing Detroit?
I've always liked the Fillmore. I love that venue. It kind of reminds me of the Olympia in Dublin where it seems like you're in a cage when you're on stage. It just goes up. I like it. I just remember the venue because we're usually in and out of that place. There was one time where I met the Arcade Fire, and I didn't know they were the Arcade Fire. They gave me a CD in the lobby, and I thought they were sweet and nice. It was Win [Butler] and his wife [Régine Chassagne]. They were very cordial about it. I hardly listen to CDs, and I popped this one on. I thought it was amazing, and I thought I had discovered something. I hadn't.
4. What can we expect from your set?
It's going to be a show. That's about it. Expect to hear your favorite songs, expect to hear the new songs that we've grown into. Reminisce.
5. When this tour's done, what's next in 2014?
This year, we're going to be spilling into Australia, New Zealand and Japan, and then obviously we're going to go back into the studio since the cat is out of the bag. It's time to be a rock band. We finally broke the ice and started recording again. The next move is to surprise people with a new sound. mt
The Pixies play on Saturday, Feb. 8, at the Fillmore; 2115 Woodward Ave., Detroit; 313-961-5451; $39.50-$59.50.