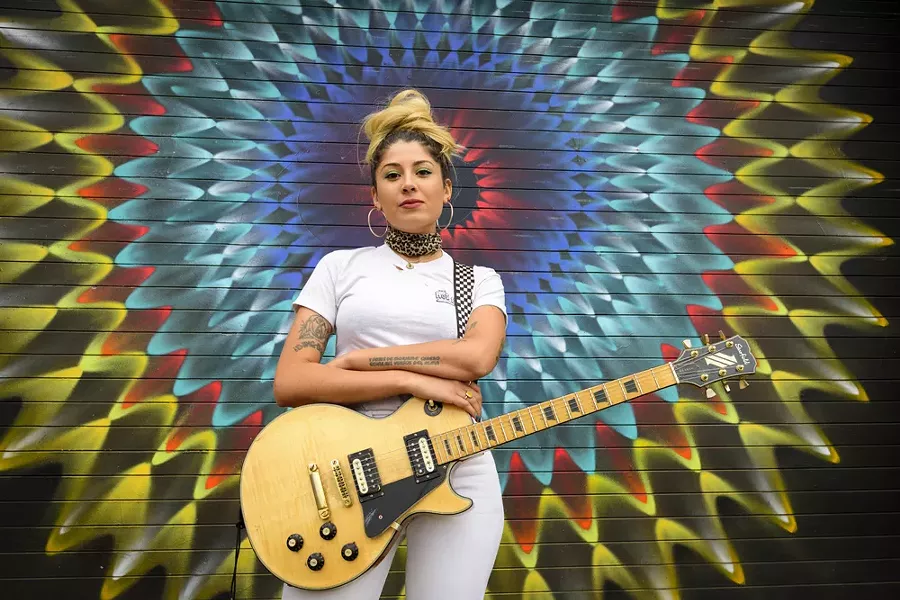 When you first see Jessica Hernandez perform onstage with her band, the Deltas, you simply can't take your eyes off her. She moves across the stage like a snake, slithering past her bandmates and attacking the crowd with her hair-raising wail, turning newbies into fans and fans into devotees. Her onstage persona is larger than life — commanding, confident, and simply badass.
For that reason, it was quite jarring to see the singer casually hanging out in the back of Mexicantown Bakery, sipping a bottle of water and scrolling through her phone like an ordinary person — a far cry from the Latina riot grrl that she becomes on stage.
Greeting us with a friendly "hello" and a warm smile, she asks if she can get us anything from the bakery, on her. While an empanada sounds quite tempting, we're here to talk about her highly anticipated sophomore album.
The ascent of Jessica Hernandez and the Deltas hasn't been the easiest ride. When we spoke with her at last year's Riot Fest in Chicago — where she performed as part of a lineup that included Sleater-Kinney, the Misfits, and Morrissey — she told us that album No. 2 was completely recorded and they were in the final stages of mixing and mastering. That was back in September. So why the delay?
"Once I submitted the album, the label tried taking it in another direction. But that's the way the industry is, and honestly a lot of artists are willing to compromise things," the 29-year-old singer says. "But I'm stubborn," she adds after she takes a sip from her water bottle and smirks a little.
Hernandez explains that a lot of the problems she faced during the production of her debut album, 2014's Secret Evil, recurred during the making of its follow-up. For some context, when Hernandez was working on her debut, she says she wasn't able to direct the album the way she wanted — which can go with the territory when signing with a major label. In this case, it was Blue Note Records, a jazz subsidiary of Universal Music Group. Her record languished in limbo for over a year before she eventually left Blue Note and went with a smaller indie label, Instant Records, to finally release Secret Evil.
The experience was a lesson for Hernandez. "I lost that battle with the way I wanted the first album produced and mixed and mastered," she says. "It's one of those things that forever it has been eating at me. I love those songs [on the first album] but I definitely feel like if I had done it a slightly different way we would have been in a different position, and so with this album I didn't want that to happen again so I stuck to my guns."
And stuck to her guns she did. After delivering the follow-up to Instant, she says she once again did not receive the news she was hoping for. "Once I delivered the album to the record label and they got involved, the whole process started taking forever," she says. "I delivered the record and I had a short list of how I wanted to mix it and me and the label were not seeing eye to eye on how the album should be mixed and mastered."
But Hernandez persisted, and soon, her vision was realized. She enlisted the help of friends Steve Lehane (who also plays bass in the band) to engineer the album and Eric Hoegemeyer to co-produce it. "We were just not seeing eye to eye with the direction the label was going with so we ended up just doing it all ourselves, and I'm so happy with how it turned out," she says.
On her second full-length, Telephone (which drops June 23), Hernandez says she finally took control of her work fully and got to make the album that she's always wanted to make.
"This one, it's more like, 'This is who I want to be right now,'" she says. "I can't say which one is better, but I definitely feel like, whether people love it or hate it, this is who I am at the moment."
Becoming her own hero
That creative freedom has not only allowed Hernandez to call the shots, but it also inspired her to do something different the second time around.
Telephone has a twin, called Teléfono. With the help of a translator, Hernandez recorded the same songs over in Spanish and cut an album that truly reflects Hernandez as a person.
"Since I was really young it was really important to my family, mostly my grandparents, that I did everything in both languages," she told MT back in November when we spoke to her before a show at El Club in Southwest Detroit. "The older I've gotten, the more important that was to me — not only to sing in Spanish, but to make sure I was practicing my native tongue so my kids are able to speak the language of their elders."
With the help of some friends in Mexico City, Hernandez cut the vocals of the Spanish album, making sure she paid close attention to the translation, sentence structure, and phrasing.
"I thought if I'm going to do an album in Spanish, I'm really going to put effort into it and not half-ass it," she says. "I'm sure Spanish-speakers can still hear some things, but it's never going to be 100 percent."


'When I was growing up, I didn't have any musicians I looked up to that were Latin females and were doing this kind of shit.'

tweet this
The extra attention paid off. Teléfono is essentially the same as its English counterpart, but Hernandez's delivery of the lyrics is mesmerizing. Upon initial listen, we completely forgot that we had already listened to these exact same songs in English. She dances with the lyrics like a tango, weaving them in and out of the guitar licks and funky bass lines that define the Deltas' signature sound.
Hernandez explains that the distinction between the two albums' sounds was intentional — the albums were mixed differently to accommodate for the differences of the Spanish language.
"Like, things in English tend to feel a little more aggressive ... and when you do them in Spanish, sometimes it loses a little bit of that aggression. So I ended up wanting the Spanish album mixed a lot dirtier than the English one, to add some of that grit back that's taken out from the sensitivity of the Spanish, to balance it," she says. "Unless you're a music person you wouldn't notice."
But the choice to record a Spanish-language album wasn't just a creative exercise. Across the musical landscape, Latina women aren't fully represented in certain genres — especially in the indie rock scene Hernandez asserted herself in. Sure, she had women like Selena to aspire to when she was younger, but what happens when Latin pop really isn't your thing and the next best mainstream Latina singer is Jennifer Lopez?
"That's another reason why I wanted to do the Spanish album too," she says. "When I was growing up, I didn't have any musicians I looked up to that were Latin females and were doing this kind of shit."
Despite singing almost entirely in Spanish, Selena famously wasn't a fluent Spanish speaker. However, she was able to use the Spanish language to connect with a large Latin American fanbase in the '90s. The way Hernandez sees it, the hunger for that kind of representation still exists.
"I mean, I'm only like 75 percent fluent in Spanish, but it's just really important that my fans who are native speakers can relate to me on that level," Hernandez says. "Plus, it makes me feel good that I can speak better than Selena and J-Lo."
Once Hernandez toured the country a couple times she began to realize how many of her fans shared her heritage.
"When we played in Arizona, New Mexico, Southern California, I'd look out and it would just be like 60 percent Mexican kids with green hair and punky style and I'd think, 'Holy shit, that's so awesome!'" she says. "All the Latin women that I knew were into Shakira and that kind of stuff. Which was cool, but I wished I'd had someone who looked like me, that had a similar thing that I could think, 'Oh yeah, I can do that.' So that was my motivation, wanting to combine the two worlds."
The world that Hernandez comes from is that of Southwest Detroit's proud Latino community. Her mother is Mexican, born in Detroit. Her father is an immigrant from Cuba, and owns the popular Armando's and Mexicantown Bakery. While her parents moved to the suburbs when she was a kid, Hernandez says the Southwest Detroit community still very much feels like home to her. She grew up working at her father's businesses, and she still writes in the bakery's upper-floor loft-turned-rehearsal space.
The loft is a reminder of her early days, a space where she used to throw parties and where her band would perform before they reached the national scene. "It feels like that era ended in this weird way," she says. "Detroit was a lot different five, 10 years ago. I mean, I was doing shows without a liquor license, I had a makeshift bar, and I was running the door and bartending. I feel like if I did that now the cops would show up instantly!" She says she is considering hosting a listening party for the new record as "one last hurrah" before her father converts the space into something else.
Of course, other things have changed in the past five years. Hernandez has become a vocal advocate of immigrant rights, and is fiercely critical of President Donald Trump's anti-immigrant rhetoric and policies. She says her father participated in the recent Day Without Immigrants by closing his businesses in solidarity and marching alongside the community.
"When [Trump] first won I was devastated, like I stopped following anyone who was [a Trump supporter]. At first I was like, 'Well I need to see both sides of the story.' But after a while it was useless, like this is not informing me, it's making me hostile and angry, and at the end of the day I want to be happy," Hernandez says. "I had to stop myself. I was sharing every article and ranting, and then it was like, 'Wait a minute, what can I do that's going to ... change people's minds in a way [where I can be] a likeable, positive person — instead of just shaking my fist?'"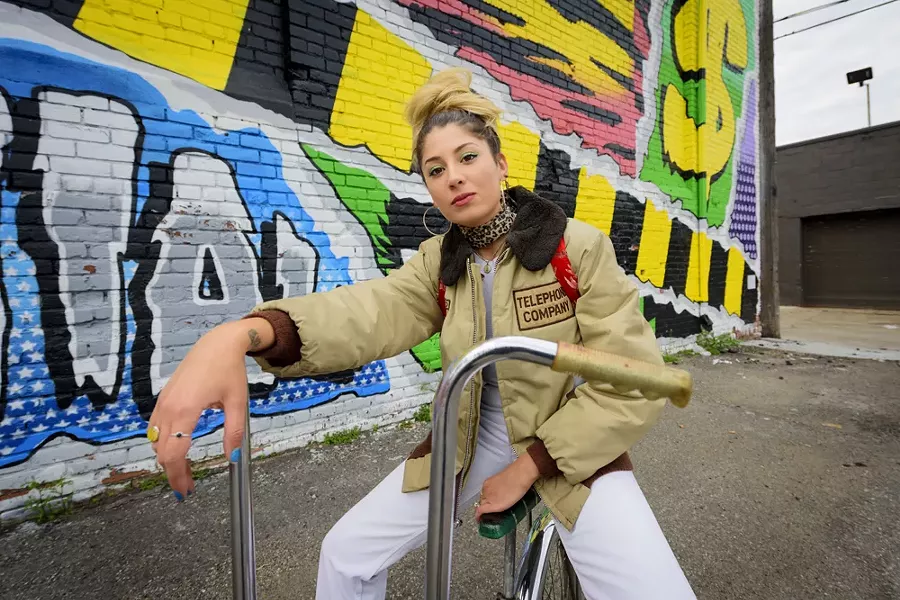 Instead, Hernandez found other ways to react. Consider her bilingual double album, then, an act of subversive resistance. "Let me be proactive in my own way," she says. "Like doing a dual album, that's proactive — trying to combine the Latin and American worlds together. To me, that's being proactive — being a strong female Latin woman, that's proactive. But getting upset on social media is not."
Hometown advantage
Between albums, Hernandez and her musician beau (Kyle Straka, guitarist and keyboardist for indie darlings, the Growlers) tied the knot. However, if you judged by Telephone's lyrics, you'd never guess that the pair are happily wed.
When we say as much, Hernandez laughs, mock-slamming her head on the table. "Yeah," she says. "I understand how you can see that."
The lyrics paint a picture of tension and unease. Songs like "Never Meant to Break Your Heart," sees Hernandez realizing that a relationship may need to end, singing, "We only run in circles / Say you want me but I know what I've got to do." She goes on to repeat, "I never meant to break your heart" over and over until you're questioning if it's an apology or a plea to come back. Another cut, "Apologies," is a new wave-inspired track where she threatens to leave, offering up lines like, "When you come up short / What's a girl to do?"
Title track "Telephone" is the album's thesis statement — and where Hernandez admits most of her romantic frustrations come out. "When you're living your life and relationship on a phone, drama comes from the telephone," she says. "Insecurities, jealousy, frustration, everything comes from the fucking telephone when you're long-distance. My life just revolves around a fucking telephone."
She adds, "At least I can laugh about it now."
We have to ask: Is it ever uncomfortable writing such honest songs about your own lover?
"I think my husband and I have a very honest relationship which I think you have to have if you're going to be together for seven years long-distance while touring full-time in bands," she says. "I wrote a lot of those songs right before we got married. We'd been through some really hard things right before we got married and when I was writing the lyrics to the songs and I got that intense feeling of 'Oh my God... I'm going to spend the rest of my life with this person' and thinking and over-thinking all the shit you've been through, and you're like, 'Wait a minute, is this what I want to do?"
Before her album is released next month, Hernandez and her band will headline the upcoming Ooh La La Lucha event in Detroit on Cinco de Mayo. The event features lucha libre wrestling and burlesque. Hernandez says she plans on performing most of the show in Spanish.
After Ooh La La Lucha, Hernandez says her band will take off for an early summer tour where they'll hit up some music festivals and road-test out the new songs before the album drops. Once Telephone is released, Hernandez plans for more touring, which she hopes will include some European dates.
"It's for sure not easy, especially when you decide to put the work in to become a national act," she says. "But I'm kind of at this point where I'm ready to do even more."
For her third record, Hernandez says she's free to release it on another label. She says she might just release it herself. "I'm in this weird position where I'm getting older — should I keep with my stubborn self and go in that direction of starting my own label?" she says. She says has also considered producing other bands.
When they aren't on tour with their respective bands, Hernandez says she and Straka split their time between Orange County, Calif., where the Growlers are based and Detroit, where the Deltas reside. Hernandez says that they've thought about ending the long-distance thing, but it wouldn't be fair to their respective bands. Plus, she adds that it just works for them.
She admits she's sometimes considered leaving the rock 'n' roll lifestyle. But that, like her Latina identity, seems to be in her blood.
"I get those moments where I'm like, 'Fuck this, let's just get a regular job and buy a house,'" she says. "And Kyle's always like, 'Are you kidding me, you'd lose your mind. You freak out when you're home for two weeks, you think you're going to buy a house and just live there and have a regular job?'"
After digesting her own words she says, "I'll believe it when I see it.'"
Jessica Hernandez and the Deltas perform at Ooh La La Lucha on Friday, May 5 at Saint Andrew's Hall; 431 E. Congress St., Detroit; Doors at 8 p.m.; Tickets are $40; ages 21 and up only.