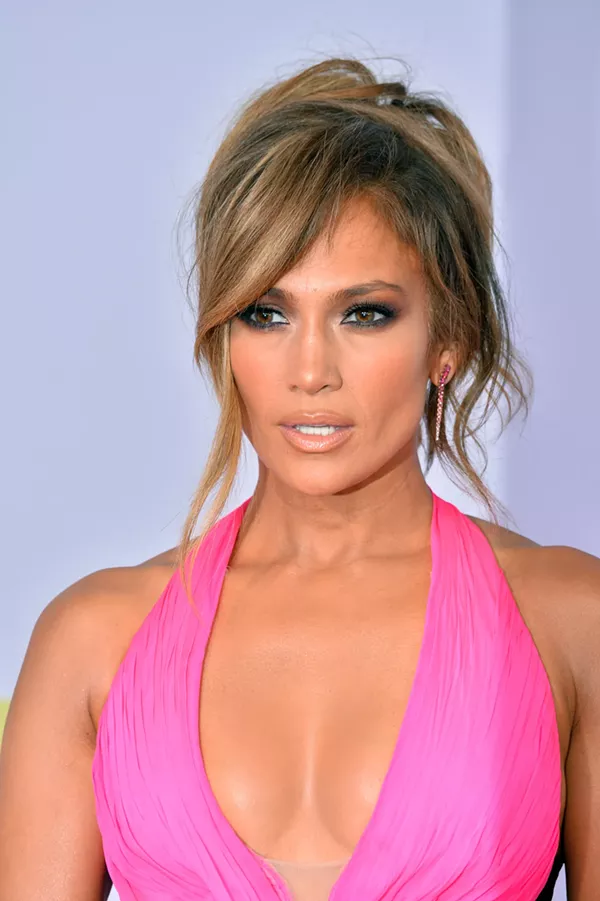 It was announced Tuesday that Jennifer Lopez would be performing at the
61st Annual Grammy Award's airing Sunday night
. J.Lo is an A-list goddess, dance mentor who seems to be literally aging in friggin' reverse
and
is a two-time Grammy nominee herself. Makes sense that she and her
plunging neckline
would perform on "music's biggest night," right?
Not quite. While J.Lo is a perfect fit for the Grammys, some are calling bullshit because the Puerto Rican-American singer has been pegged to perform as part of the ceremony's Motown Records tribute.
The tribute, which was teased during a commercial on CBS Tuesday, will commemorate the 60th anniversary of the Detroit label that served as the home base and launching point for the careers of legendary black artists by the likes of Smokey Robinson, the Supremes, the Temptations, Marvin Gaye, Stevie Wonder, and the Jackson 5.
Oh, yeah. It's also Black History Month. Oh, yeah. J. Lo isn't black. Naturally, the Twitter users put down their tea to dish out reaction GIFs, shade-throwing, and general confusion.
I have questions. https://t.co/UqkqAZzRV5

— Jemele Hill (@jemelehill) February 5, 2019
she's doing what now? pic.twitter.com/HoAOOe3vRq

— LY: HER'S MOST PRECISE SHOOTER | #LYHER200KPURE 💮 (@JunkariJeon) February 5, 2019
We can't even be us, in our own tribute, during Black History Month. Damn!

— LI Manhattan (@Manhattan510) February 5, 2019
February 5, 2019
Did they email the wrong Jennifer?
February 5, 2019
Why not Missy Elliot? She is underrated for her vocal range. Or if we are doing more traditional: Chloe X Halle? Or Mary J Bridge? Ledesie? Jill Scott? Jennifer Hudson? This feels as strange as Madonna's tribute to Aretha. pic.twitter.com/BKJx3HZQ1L

— Denzel Scott (@DenzelScott) February 5, 2019
The Bey-hive is feeling it, too.
So Beyoncé bout to do a tribute at the Latin Grammys... pic.twitter.com/CAIMa0yyOV

— B-Stro (@stromio1) February 6, 2019
Many have been left speechless.
February 5, 2019
Race aside, countless people were quick to call out one universally true observation:
Hey, I don't mind JLo, but she does NOT have the range to do a Motown tribute. pic.twitter.com/iTihOYgSxz

— Charlie FOR WHOM THE CampBELL TOLLS (@OOUCH_charlie) February 6, 2019
Other performers include Lady Gaga, Cardi B, Post Malone, Janelle Monáe, Kacey Musgraves, and Shawn Mendes. The 61st annual Grammy Awards will air on Sunday at 8 p.m. on CBS with host Alicia Keys.
Get our top picks for the best events in Detroit every Thursday morning. Sign up for our
events
newsletter
.