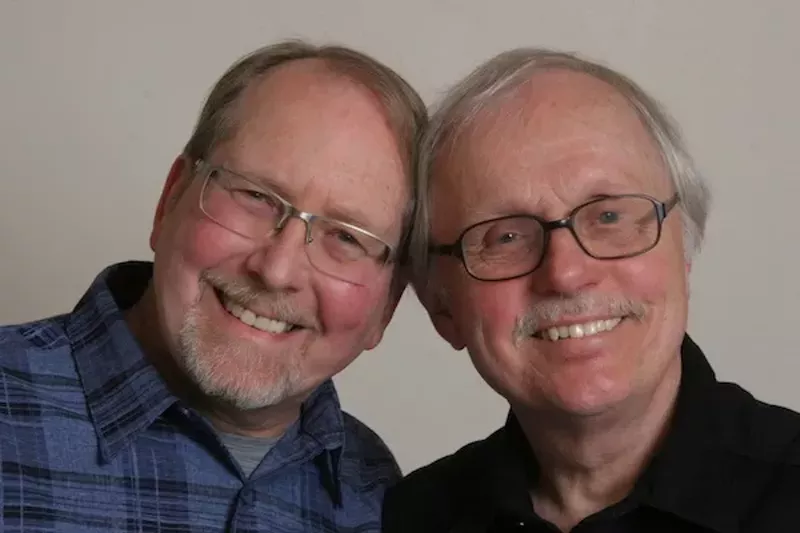 Congratulations are due to two jazzheads who've written for
Metro Times
through the years. They are Jim Gallert and Lars Bjorn, and this year the members and supporters of the Jazz Journalists Association have named the duo "2018 Detroit Jazz Heroes."
Gallert and Bjorn are perhaps best-known for their book
Before Motown: A History of Jazz in Detroit 1920-1960
. When it was published by the University of Michigan Press in 2001, it opened a curtain on the music that both predated and helped inspire Motown, including a constellation of jazz stars that comprised the city's distinct jazz scene. Some of the stories of those characters would be retold by Gallert and Bjorn in full-length articles, especially in our "Century of Sound" series in the summer of 2004, when the duo chronicled the lives of
bandleader Maurice King
and
talented pianist Willie Anderson
.
You may also have seen Gallert or Bjorn at the "Talk Tent" at the Detroit Jazz Festival, where they've been helping present discussions featuring festival artists, jazz scholars and other commentators since 1994.
Among other accomplishments, Bjorn has served as president of the Southeast Michigan Jazz Association for more than a dozen years, and Gallert has had a long career as a jazz radio host at WDET-FM and WEMU-FM.
The honor comes with its share of ceremony: Gallert and Bjorn will be presented with engraved statuettes at a celebration at Bert's Marketplace next week.
Lars Bjorn and Jim Gallert will receive their Jazz Hero awards at 8 p.m. April 12, at Bert's Marketplace, 2727 Russell St., Detroit; the evening also marks the 17th anniversary of Bert's Thursday night jam sessions, beginning at 8:30 p.m. For more information, see JJAJazzAwards.org.

Get our top picks for the best events in Detroit every Thursday morning. Sign up for our events newsletter.