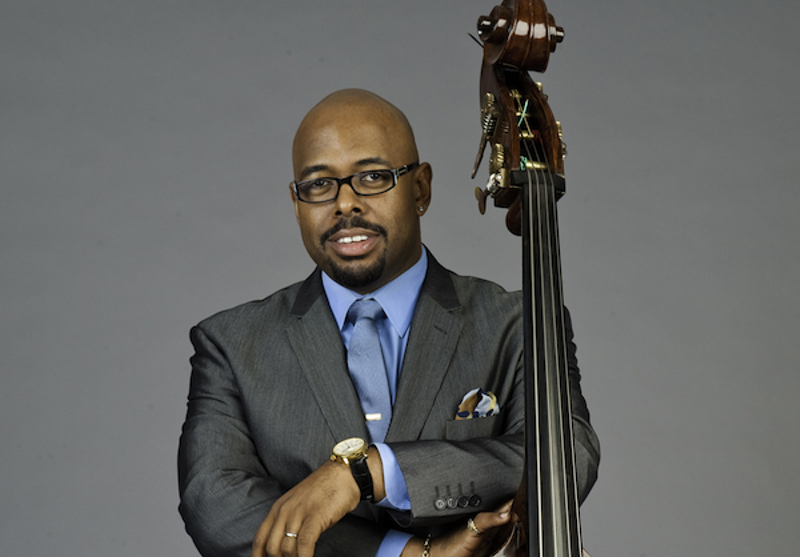 Downtown's atmospheric jazz club Cliff Bell's has plenty of big names appear on its stage, but this month a heavy hitter makes his debut in front of the club's trademark sunburst: Christian McBride.
If you know jazz, you're aware that McBride was a teen prodigy born into a family of skilled bassists, who then gained the wisdom of his elders by playing with such seasoned jazz cats as Milt Jackson and Benny Gholson. Since then, he has not only blossomed into a mature powerhouse with more than 300 recordings, but the five-time Grammy-winner has seamlessly spanned the worlds of jazz, fusion, pop, hip hop, and soul, playing with everybody from Chick Corea to Wynton Marsalis to Sting to Queen Latifah.
These days, McBride has become a very busy bandleader, running five different musical projects. You might say he's developed a knack for being in charge, given his roles as artistic director of the Newport Jazz Festival and host of NPR's
Jazz Night in America.

Put it all together and you have a remarkable combination of prodigal son, grounded sideman, eclectic collaborator, inspired tastemaker, lively bandleader, exultant soloist, and — thankfully for us — hard-touring road dog. When McBride brings his trio to town next week for two shows at Cliff Bell's, it will be Detroit's most important jazz event of the month.
The Christian McBridge Trio takes the stage for two performances, at 6 and 9 p.m., on April 27, at Cliff Bell's, 2030 Park Ave., Detroit; 313-961-2543; tickets $20-$55 and available by clicking here.