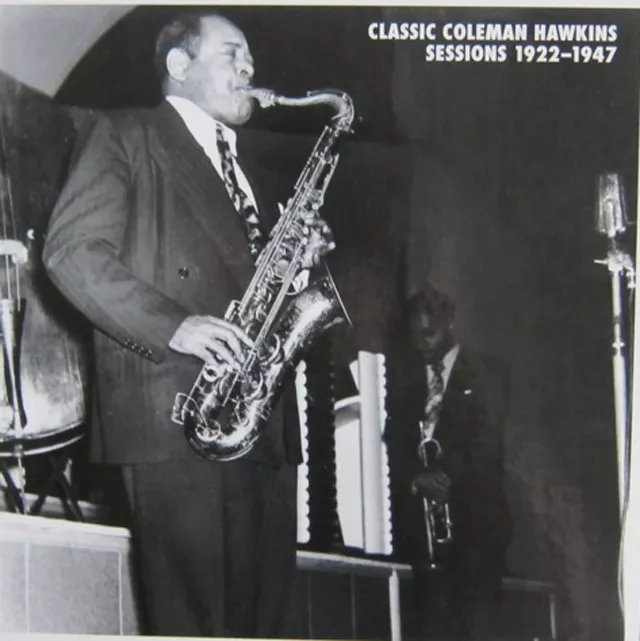 Prodigious in talent, appetite and girth (the latter two metaphorical as well as literal), Charles Mingus was a true jazz giant, a jazz Gargantua. His widow, Sue Mingus, suggests him as a Whitmanesque figure containing multitudes, and The Complete Columbia and RCA Albums Collection, to which she contributes liner notes, gives a sense of this multitude's career. This is hardly the whole Mingus story, not even an overview of the whole story, but it suggests the epic of Mingus. Where the artistry of his peers seems to unfold from some core — think of Coltrane or Monk or Rollins — Mingus' story is more unruly, more like multiple cyclones along a storm front. So messy was his career that he went to his grave in 1979 with his greatest project, "Epitaph," barely hinted at.
Unlike Miles Davis, whose association with Columbia lasted for 30 continuous years, Mingus recorded only sporadically for the label. Still, Mingus' spotty work for Columbia and RCA, now both under Sony's umbrella, spans 25 years of his life and the posthumous recording of the composition "Epitaph" a decade later.
The 10 discs here include two consisting largely of botched takes, outtakes and alternate takes, which Sue Mingus protests should never have been released, let alone re-released here. But the miscellany on the two discs also includes some gems that have either been long unavailable or never issued as part of a Mingus disc before — a 1959 commission for a Third Stream Gunther Schuller project and a duet with Dave Brubeck among them. That leaves eight CDs that range from good to great, to among his greatest.
The Sony/Legacy collection begins with Mingus at age 35, already recognized as jazz's pre-eminent bassist, a sophisticated composer following (more than any of his contemporaries) in the footsteps and ambitions of Duke Ellington; in his long-form "Pithecanthropus Erectus," he'd set out to chart nothing less than the rise of humankind; his roiling "Haitian Fight Song" was another high-water mark. He was also, among other things, a lover of Charlie Parker's music, as outspoken politically as anyone in jazz, a music entrepreneur, and a magnetic bandleader who attracted some of the best musicians around. He was so many things. To note a few more: boisterous and overbearing, sensitive ... sometimes a little crazy, sometimes more than a little crazy.
Recording for an RCA subsidiary, in 1957, he brought jazz and Spanish music raucously together. This was flamenco table dancing in a cantina — a marked contrast to Miles Davis' stately balance of cool and hot in his revered Sketches of Spain sessions, two years later. In one of several bad-luck turns in Mingus' career, RCA sat on Tijuana Moods until 1962, by which time his claim as a pioneer on this count was academic.
Mingus fared better with Columbia in 1959, recording his most successful album to date, Mingus Ah-Um, which debuted "Goodbye Porkpie Hat," his most famous composition, and "Fables of Faubus" another classic-to-be (although Columbia barred Mingus and company from singing the lyrics that equated a Southern segregationist governor and his ilk with Nazis).
Mingus Ah-Um's worthy successor, Mingus Dynasty, followed later that year, again celebrating the textures and possibility of a combo with a small horn section, again including the voluble saxophonists John Handy and Booker Ervin.
After those sessions, Mingus left the label. He'd eventually leave the music business — disgusted by the business — in 1965, descending into a dark mental state from which his escape was uncertain. But return he did, coming back at gale force with Let My Children Hear Music in 1971, a record emphasizing Mingus the composer, making the point with something like 50 musicians involved, and Teo Macero's production amplifying and projecting the sound to make it all the more powerful.
The lesser successor to Children, and the last Columbia project of his lifetime, came a year later in Charles Mingus and Friends in Concert, originally cut down to two LPs, here expanded to two CDs. The list of friends is exhaustive — Lee Konitz, Randy Weston, Dizzy Gillespie, Gerry Mulligan, James Moody, Bill Cosby as MC, just to hit some of the biggest stars. The disc seems a little exhausting, yet it's too good to cut. Mingus famously summed up in three words the night of a thousand solos: "Too many friends."
After Mingus' 1979 death, Sue Mingus discovered a box of music that turned out to be compositions intended for his 1962 Town Hall concert, a live-recording debacle in which only a fraction of the music had been played — and that with mixed results. Forensic musicology by scholar Andrew Homzy led to the interpretation of the find as a 500-page, 18-movement manuscript, incorporating pieces that Mingus had written through his life, and including others unlike anything he'd heard before. It was a grand celebration of the history of jazz (and a lot of European classical music) as channeled through Mingus' genius. And with an all-star 31-musician ensemble, the two hours of music have been performed just a handful of times, the first included stunningly here. (One has to wonder what it might have been with Mingus at the helm, or with a band that could play and really grow into the music.)
The Sony/Legacy Mingus collection covers more than 30 years in 10 discs. The Jazz Workshop Concerts 1964-1965 on Mosaic covers just a year and a month in seven. But what a stretch of Mingus music begins in April of 1964! The down-home and witty pianist Jaki Byard, along with Mingus — at the height of his bass virtuosity — and Mingus' right-hand drummer Dannie Richmond made for one of most dynamic Mingus rhythm sections, one of the most exciting sections ever; "the Almighty Three," Byard proudly christened them. Eric Dolphy, the most original soloist to come through the Mingus ranks, was nearing the end of his tenure, and was being sent off with the showcases "So Long Eric" and "Praying with Eric." The estimable voices of Clifford Jordan on tenor and Johnny Coles on trumpet completed a powerhouse lineup that could rage and laugh, shift tempi and feel, keep the background support crew in flux and as fascinating as the soloist in the foreground.
The collection captures the band at New York's Town Hall on the eve of a major European tour and then six days later in Copenhagen with largely the same set list and even more gusto. (Notably, Town Hall's 11 minutes of "Fables of Faubus" gives way to a half-hour exploration of its multiple possibilities in Copenhagen.)
Back in the United States that September, Mingus has a new horn section for the Monterey Jazz Festival: young bop firebrands out of Detroit on trumpet (Lonnie Hillyer) and alto (Charles McPherson), plus a band veteran returning on tenor (John Handy). They absolutely kill in an Ellington medley that concludes with an ecstatic "Take the A Train." There's also an augmented version of that band with additional horns at Monterey. And a year later, Sept. 18, 1965, Mingus is at Monterey again with an augmented version of his working band and a batch of particularly adventurous compositions in an unfortunately truncated performance.
The second Monterey set (some of it issued in this collection for the first time) is actually the last music recorded here, preceding Mingus roughest years (depicted in Sue Mingus' Tonight at Noon and elsewhere). But the last selections featured in the Mosaic set come from four months earlier. It's a far more pleasing conclusion with a Hillyer-McPherson horn section in a feisty Minneapolis date.
Clearly, the attention given the avant-garde was getting under Mingus' skin and here's his answer: going out Mingus-style. He takes the mic to put down an unnamed avant-gardist for not knowing Charlie Parker, then he shows how far the band can go out with a potpourri of Bird faves and themes. To mention one more Minneapolis highlight: a "Cocktails for Two" that's almost slapstick, like nothing else in the Mingus oeuvre. But we know this comic was hurting inside.
Like Mosaic's Mingus box, the label's eight-CD Classic Coleman Hawkins Sessions 1922-1947 boasts a 10-by-10-inch box and booklet, and there's first-class material in the latter, both in essay form and detailed track-by-track annotations. Mostly culled from the era of 78 rpm releases, this set documents one of the most important of all jazz men — the virtual inventor of the tenor sax as an expressive instrument in jazz (and by extension R&B and rock), an influence on instrumentalists throughout jazz, and the creator of, arguably, the single best known solo in all of jazz that wasn't recorded by Louis Armstrong or rendered in vocalese, 1939's "Body and Soul."
Through 190 selections — so maybe you need to be an obsessive for this one — scholar-musician Loren Schoenberg tracks Hawkins' development as a bandmember and later as an off-and-on leader. Of course, jazz itself was progressing through these years, so this is also a recounting of jazz's history across three key decades with tubas giving way to the smoother flow of string basses, banjos for electric guitar, etc. Swing was being invented (boogie too), then bop. Schoenberg ably captures a time when committing a solo to disc was freighted with significance as much as a batter stepping to the plate. And few at-bats were as highly anticipated as slugger Hawkins. Here are samples of Schoenberg's color commentary on Hawkins:
• Dec. 20, 1922: "Sticking close to the theme, he makes good use of the prevailing slap-tongue effects in vogue at the time, and plays with a bravado impressive for an 18-year-old novice."
• Sept. 8, 1924: "There's one magical moment in the third and fourth measure of the last eight bars, where he ritards the beat and we hear the makings of the Hawk's genius."
• Oct. 24, 1927: "Hawkins manhandles his saxophone and gets an effect that may have brought a smile to Albert Ayler's face."
• Nov. 7, 1929: "... a Hawkins solo that must have made saxophonists' heads spin with its unstoppable forward motion, opening finger twists and sheer confidence. This is nothing less than the reinvention of the instrument. ..."
• Nov. 14, 1929: "Here for the first time, we have, albeit in embryonic form, the sophisticated Hawkins ballad style that set the pattern for untold millions of sax soli to come."
• Aug. 18, 1933: "Hawkins shoots off dozens of ideas in spots, many stated in blocky quarter-tone triplets."
Unfortunately, there's a 1934-1939 gap when Hawkins moves to Europe, but the selections and the story pick up with Hawk back in the States playing with a couple of his tenor acolytes (Chu Berry and Ben Webster) in Lionel Hampton's band. Then, on Disc 5, comes the epochal "Body and Soul" session, for which Schoenberg has been preparing us all along, although he constantly cautions against letting it overshadow Hawkins brilliance elsewhere and yet to come. Some of the latter is documented in the next discs here, replete with various aggregations of "all stars," which Hawkins surely was and remains.
Unlike the other boxes here discussed, there's no particular arc or story or coherence from Sarah Vaughan's The Complete Columbia Collection. It's just four almost random selections from one of the greatest vocalists of any genre, the most operatic of jazz singers. After Hours with Sarah Vaughan and Sarah Vaughan in Hi Fi capture Vaughan in her mid-20s in 1950 and 1951, her connections to Billie Holiday and Ella Fitzgerald clear. Hi Fi is the far jazzier of the two, with Miles Davis on trumpet.
The collection jumps ahead 30 years to Vaughan plus her working trio and the Los Angeles Philharmonic, co-credited to conductor Michael Tilson Thomas; it's soaring high-drama stuff, tour de force, monumental it shouts! This is about as far from the nightclub ambience as you can be. The collection finishes with one of her final projects, the third of her Brazilian songbooks, with Sergio Mendes producing and Milton Nascimento turning in a guest vocal.
The short booklet essay in 50th Anniversary Collection by the Preservation Hall Jazz Band tells the story of how traditional jazz found an institutional base in New Orleans, where so much of the jazz story begins. And, ironically, the story about preserving the tradition is also a story about carving out Preservation Hall as a space for progressive values in the Jim Crow South (note to Bill O'Reilly on that whole "traditional America" thing). With the platform provided by Atlantic and then Columbia Records and a heavy touring schedule, a battle was won. Consider these four discs as a small taste of the fruits of victory. Contemporaries of Louis Armstrong like George Lewis and Sweet Emma Barrett, over the course of the collection, give way to a younger New Orleans generation (including longtime Detroit transplant Charlie Gabriel). Later sessions expand the tradition with sympatico collaborators like Tom Waits, Richie Havens and the Del McCoury Band'; some selections revamp the beat to connect the dots of a New Orleans second line to rock. Want a really special gift for someone? Send them to NOLA to hear this music at Preservation Hall. More reasonable, probably: Tell them to close their eyes, and play some of this.
The Preservation Hall Jazz Band performs a holiday-themed show starting at 8 p.m. Thursday, Dec. 6, at the Max M. Fisher Music Center, 3711 Woodward Ave., Detroit; 313-576-5111; dso.org; $18.
W. Kim Heron is editor of Metro Times. Send comments to [email protected]