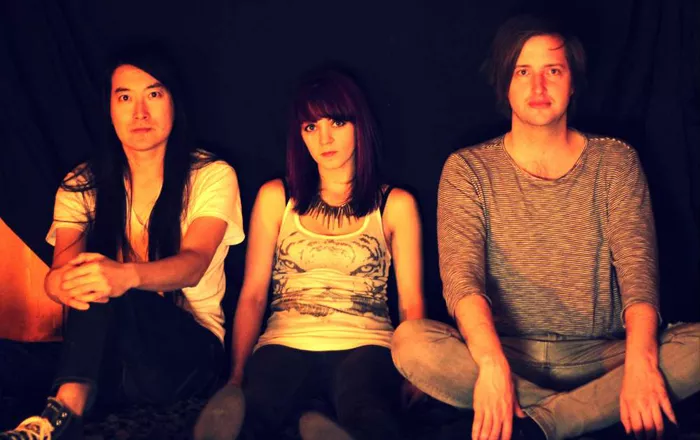 It's been a year and a half years since we put Jason Stollsteimer on the cover of MT, alongside his Hounds Below bandmates and the headline "The Von Bondies were a hit. Can Jason Stollsteimer do it again with the Hounds Below?" As the singer and guitarist prepares for his set at Blowout 17 with another band, Ponyshow (he prefers the name to be written in all-caps), the answer to that question from October '12 has to be "No."
Not that the Hounds Below (or the Von Bondies, for that matter) has necessarily broken up; Stollsteimer insists that both projects are there to be reanimated whenever he and perhaps the other members involved are feeling it. He simply became tired of a persistently shifting Hounds Below lineup, a change in sound or two, and an album that, while brilliant, he feels went to waste because the band didn't tour enough after its release.
For many musicians, the changing sound of a band is part of its evolution, part of the creative process. Not for Stollsteimer. "The first time you hear [Ponyshow], that will define us for the rest of your life," he says. "That's the way it should be. The change of sounds is where every band goes wrong. If we want to change sounds a few years from now, we'll just do a new band."
So Ponyshow is a new band, fair enough. It's interesting though, because the trio is completed by two more former Von Bondies — drummer Don Blum and later-era bassist Leann Banks. It seems entirely natural that, when forced to admit that the Hounds Below wasn't going to be making any great strides anytime soon, Stollsteimer would turn to two people that he refers to as "great friends." A Von Bondies reunion was never in the cards though, and, with Banks still a member of Amy Gore's Valentines and After Dark Amusement Park, and with Blum having removed himself from music altogether for a couple of years, this is a band that has to be content with baby steps for the time being.
We meet with Stollsteimer and Banks at the WAB in Ferndale on a quiet Wednesday afternoon. Stollsteimer is, unusually for him, sporting facial hair due to his imminent appearance in a music video for New York band the Cold Blood Club. The two of them live in Ferndale (Banks works next door at the Emory), so this is home base for them.
"Doing this band, I feel for the first time like I'm going back to the reason I started listening to music, not even just writing music," Stollsteimer says. "I grew up with the Pixies and Pavement, and I always wanted to be in a band like that. When Leann joined the Von Bondies, she was a replacement and I've always wanted to do a band with her from scratch. From Day One, it's these three people. The band will break up the first time somebody leaves. I don't want to break up, but I'm just saying. I played with Don for eight years. I missed Don and, besides music, this is a good excuse for me to see two of my best friends. Whatever comes of it comes of it."
The fascinating thing about Stollsteimer is that he will insist Ponyshow is a "band," it's an equal three-way split. But the man is so talkative, it's so in his nature to lead, that Banks struggles to get a word in. That's no slight on either of them; it's just the way things naturally lie. Back when we interviewed the Hounds Below in '12, Stollsteimer insisted that he wanted it to be a real band and not just his band, but that was never going to be the case, given the ages and personalities of those involved (the other members of that band were significantly younger than the singer). With Ponyshow, he's at least grouped himself with two people that he trusts completely, of a similar age, who have the confidence to push their thoughts forward when they need to. Stollsteimer is a big personality and he needs that. Craves it, even.
The references to Pavement and the Pixies are valid. Ponyshow has a sound that is rooted in the '90s — simple bass lines and guitar work providing the framework for dual male-female vocals and Blum's melodic drumming. "I've played with a few drummers and they were all amazing, but with Don it's the weirdest thing," says Stollsteimer. "It's different. Every kick drum hit is on. It's amazing. Leann has the ability to play very difficult bass lines without breaking a sweat, but with this band, it's not what we do. It's like the Motown thing, where they used great jazz musicians who found it easy to play the Motown songs."
Banks was in her early 20s when she joined the Von Bondies, and, in retrospect, that band was starting to wind down. Now 30, she's a lot more experienced and confident. "The only band I'd ever played with before I joined the Von Bondies was Ghost City (with Electric Six's Chris Tait)," says Banks. "It only lasted a year or so — our last show was actually our CD release party. Then I joined the Von Bondies, and I was such a newbie. It took me a minute to find my thing that was me. I'm 30 and I'm still only just coming into what I feel is me. I didn't listen to the Von Bondies before I joined. It was heavy and dark, and I was very into pop — Sloan and the Beatles. But sometimes it's fun to play a couple of notes and really just put it out there and have fun with the whole thing."
It'll be interesting to see how Ponyshow evolves, and you'll get a chance at a first glimpse when the band plays Blowout. Don't expect any Von Bondies tunes, but do expect something interesting from three musicians who are very in tune with each other.
"I always looked at the Blowout as a way to discover bands that you've heard about, and see them live," Stollsteimer says. "Leann's first show with Amy Gore was at Blowout. So if you wanted to see what Leann or Amy or Jackson [Smith] was doing next, you had to go to that show. Now, this will be Ponyshow's first show in Michigan."
Don't miss it.
Ponyshow plays the Metro Times Blowout, April 30-May 3; mtblowout.com.