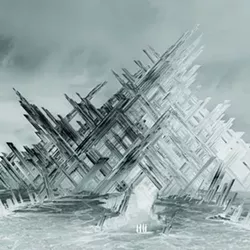 Many solo albums inevitably get stereotyped as diaries put to song, but hear James Linck out!
This debut diary, which is a montage of styles (with multiple producers and a rap-cameo), sails slickly through dreamy trip-hop fogs and chilled-out hip-hop lullabies; and proves to be a decent sample of the local scene's latest take on electro-heavy indie-pop.
Cut between two "Fortresses," i.e. bedroom studios, Linck produced almost all of Solitude, but Christopher Jarvis (another electro-pop artist, rising locally lately via his laptop-laden duo Phantasmagoria) provided some remixing and percussive arrangements.
Linck's got quite a varied musical-personal makeup: this half-Brazilian crooner, with a frizzy afro, was reared on Motown yet got his start with folky singer-songwriter stuff that soon flared into funk and reggae. By 2011, close to a decade after his arrival on the scene, he was fronting a jazz-minded hybrid of lounge pop and space-rock.
He's proven keen at fitting a unique, quirky voice — it's like a beautiful quiver, which is then smoothed into a cherubic, whispery tone — to the various sensibilities he has undertaken. His emotive lyrics and ability to belt out the bars puts him in a category best described as neo-R&B, but the inclusion of Jarvis' ambient-inclined, synth dashes complement Linck well and lends some diversity to the sound. A live incarnation, featuring Jarvis, as well as live drums, bass and guitar (with Dave Kendzorski, Adam Smith and Jeff Cuny) is playing soon: See below.
—Jeff Milo
James Linck will open for Jessica Hernandez & the Deltas in an evening also featuring Mexican Knives. Show starts at 8 p.m. on Saturday, March 23, at St. Andrew's Hall, 431 E. Congress St., Detroit; 313-961-8961; standrewsdetroit.com; $12