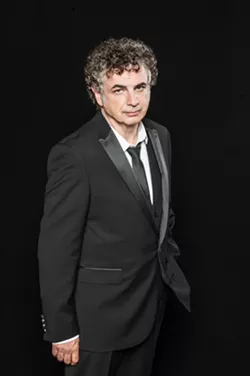 As part of arguably the longest audition in rock 'n' roll history, Jakko Jakszyk has been not-so-secretly vying for a spot in King Crimson, the definitive pioneers of progressive rock, for most of his life. A prepubescent Jakszyk, now 59 years old, found himself so completely disarmed by his introduction to Crimson's intricate instrumentation and perplexing tantric dance between meditation and anarchy that he felt his destiny had been forged.
"I must have been about 10 or 11, and that was in the late '60s. My musical DNA was affected by Crimson at such an early age," Jakszyk says. "Even at that tender age I could tell — this is music that's coming from a different place. I went to see them the following year and they just completely blew me away. I left with this rather romantic teenage notion that somehow my life had been changed."
Heavily debated as the first album in progressive rock, King Crimson delivered their beautifully tortured debut in the form of 1969's In the Court of the Crimson King. The iconic album art, a painting by the late Barry Godber, reveals a screaming man, nostrils flared, tonsils quivering. "The combination of the rather mysterious looking sleeve, the gatefold had all this kind of marbling, the fact that they had no pictures of the band added to the kind of sense of mystery and this idea that what you were experiencing was otherworldly," Jakszyk says.
For most, King Crimson is as notorious for being a turnstile of membership and hiatus as they are for their meticulous mastery of anti-gravitational arrangements, an Ouroboros of rapture and climax. King Crimson has never been anything but ambitious.
Jakszyk uses "King Crimson" and "Robert Fripp" interchangeably, suggesting that they are synonymous. It's not Freudian nor off-base. Fripp, the contentious ringleader and the only member to perform in every incarnation since the band's late 1960s inception is perhaps the only reason King Crimson is touring new material in 2017.
"Robert is constantly castigating me for saying nice things about him in interviews. He's made me promise to say what a horrible man he is," Jakszyk laughs. "He said to me once, 'Can you stop saying nice things about me? Because it's ruining my reputation.' So, if you put anything in there say that 'I can't stand him and he's a horrible man,' but of course he's not."
Jakszyk says the current incarnation of the band is "the first lineup of King Crimson that doesn't contain at least one member who actively resents me," quoting an interview with Fripp in 2013. Likely Fripp was referencing the public separation from Adrian Belew that same year — Crimson's on again, off again singer and co-guitarist from 1981 onward.
"Robert is is a benign dictator," Jakszyk explains. "I think he chooses the musicians he thinks would be better suited to giving voice to this music, and trusts that they'll do the right thing."
Jakszyk recalls several instances of Fripp's creative reign tugging from chord and tuning changes, to unplanned re-arrangement of songs that have been untouched for over 30 years and even asking Jakszyk to sing the intro of "Do You Know Peace?" in Japanese, hours before their show in Japan.
"There are moments where Robert suggests things and I'm like, is this like some mad test here, because he's got such a wide smile on his face," Jakszyk says. "If he is joking, I decide to do it anyway."
In 2002, Jakszyk's worship of Crimson propelled him to become an instrumental founder of 21st Century Schizoid Band. The group, comprised of several former members of Crimson, dedicated themselves to reimagining Crimson's early catalog. It was as close to being in Crimson as Jakszyk thought he would ever get.
Jakszyk sang "Islands" at the funeral of Ian Wallace, a former Crimson drummer who eventually became the drummer in Schizo Band. "Robert was at the funeral and then he invited me to his house, and then we did some work together, he played on my album, we co-wrote something, and then we made an album together," Jakszyk recalls. "Whatever you see from the outside, whatever you imagine that's going to be like, entirely, it's always going to be different."
'Whatever you see from the outside, whatever you imagine that's going to be like, entirely, it's always going to be different.'

tweet this
King Crimson is approaching nearly 50 years of eruptive influence and 13 records that, as an anthology, have defined rock as much as it has defied the genre. Now a seven-piece, grounded, focused and in awe of their own staying power performing a four-hour overview of turbulence and triumph which is, for the remarkably modest Jakszyk, coming full circle, just as it was meant to be.
"My son just turned 15 and he decided to come to the show and brought nearly a dozen of his mates. I remember being on stage and thinking, 'Oh god, they're gonna hate this,'" Jakszyk recalls. "But all of them were completely blown away, and I became the hippest dad in school."
He laughs, "My son, who is a musician himself, he's now discovering stuff on YouTube and he's coming up to me asking 'Have you heard of...' and of course I've heard of him. I've played with him."
King Crimson performs on Wednesday, Nov. 22 at the Michigan Theater, 603 E. Liberty St., Ann Arbor; 734-668-8397; michtheater.org; Doors at 7:30 p.m.; Tickets start at $49.50.