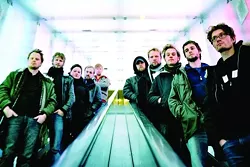 Norway's award-winning jazz group, Jaga Jazzist is out with an exciting new album: "Jaga Jazzist Live with Britten Sinfonia"; this is Jaga Jazzist's sixth album release to date and is the first to feature them performing with an orchestra.
This union was the result of British radio DJ Fiona Talkington introducing the band to the Britten Sinfonia. Jaga was so inspired by the collaboration that the members poured themselves into the project, producing a plethora of new material.
This nine-piece instrumental band is no stranger to fusing genres such as classical, rock and jazz. Jaga Jazzist has been at it since 1994 when the group was first formed by brothers Lars and Martin Horntveth, along with Ivar Christian Johansen, who has since left the group.
Its music has been compared to everything from The Cinematic Orchestra to Tortoise, but I hear glimpses of Soft Machine, early Yes, Gil Evans and Gong — with a little Philip Glass shining through. With that said, its sound is still original, staying current and contemporary with rhythmic figures and instrumentation reflecting today's electronic instruments and beats.
Some people are not fans of "live" albums, but this one works (for me). In fact, I have never understood why so many people seem to be adamantly against live releases; especially since most would agree that something unique and purely natural is captured during recordings made live in time, without the benefit of audience-fooling post-production studio tricks.
You can learn a lot about Jaga Jazzist by looking at the wide range of instruments the band utilizes in its sound: (Lars Horntveth) on tenor sax, baritone sax, soprano sax, clarinet, bass clarinet, flute, guitar, piano, keyboards, programming, lap steel guitar; (Line Horntveth) on tuba, flute, percussion and vocals; and (Martin Horntveth) percussion, drums and programming.
Rounding out the sound are additional players on keyboards, electronics, vibes, marimbas, trumpet and much more. Needless to say, the band features a high level of musicianship with precision players who've been together for nearly 20 years.
Some of the pieces that caught my attention:
"Prungen" contains some of the Jaga Jazzist's signature rhythmic ostinatos played on a variety of instruments to create minimal repetitive figures that accompany non-melodic thematic material.
"Bananfluer Overalt" has a gorgeous trumpet part, laid on top of a simple accompaniment of strings, flutes, etc., with Spanish overtones, reminiscent of Miles' "Sketches of Spain." Contrasting this is an explosive full band section with rock-ish drums and electric guitar, weaving in and out.
The band shines in "Music! Dance! Drama!" where it shows off its rhythmic sophistication, alternating between the ancient and the modern — sometimes tribal, sometimes high-tech.
Jaga Jazzist's genre-blending isn't forced because it reflects the musicians' backgrounds as they intuitively capture the power and intensity of rock and jazz — as well as the emotional, contemplative and cerebral side of classical music without sounding corny or dated.
Jaga Jazzist delivers original content with compositional interest, contrasting colors, textures and dynamics, enhanced by experienced players and clever instrumentation. The music is uplifting, with lots of positive energy and forward motion. If you're looking for some new music, then check them out!
— Judy Adams