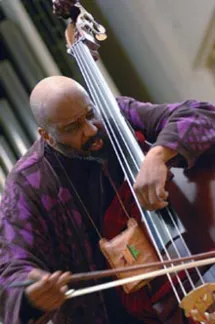 Over at the Kerrytown Concert House in Ann Arbor,
the 20th annual Edgefest
got off to a raucous start last night with Wadada Leo Smith performing. The event continues through Saturday night, with a great program of adventurous sounds.
Of particular note is the
William Parker Quartet show on Friday, Oct. 28
. That band alone — Hamid Drake, Cooper-Moore, and Rob Brown, plus Parker himself?! That's one of the sickest groups on the planet, right there.
Edgefest is an award­-winning, annual avant­-garde jazz and creative new music festival with a unifying purpose: to explore new music created by today's composer­s and performers from the United States and beyond. On the occasion of the festival's 20th anniversary, Dave Lynch, founder of Edgefest and its artistic director for its first 10 years, has rejoined to help in planning the wide-ranging fest.